Online Casinos Closed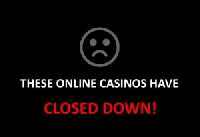 Online casinos open and close fairly regularly. They may close for a variety of reasons, including bankruptcy or inability to make a profit, software problems, or legal problems.
They suffer many of the same problems that an average brick-and-mortar business would have, but because of the lower investments and volatility in the market, they are more susceptible to failure.
Regulated online casinos can run into legal trouble which is often a problem. While there are some online casinos that do not follow the legal restrictions, many of them do. Online casinos must meet rigorous fairness testing and provide payout reports in some jurisdictions.
The casinos that cannot keep up with these tests or provide accurate reports may be doomed to "close their doors." Legal problems may also arise if the online casino is engaging in dishonest activities, like rigging the games or failing to issue withdraws when requested.
An online casino may also close because the software company that was providing their games had issues like bankruptcy, legal trouble, or copyright problems. Sometimes online casinos only have one or two software providers, so if one of them fails, then they may have a serious problem keeping games on their site.
If they cannot get a new software provider fast enough then they may have to shut down the site (at least until they find another software provider).
What is a Closed Casino?
A closed casino is an online casino that is no longer operational. Usually, that means that they have taken down their website, and notified review sites and licensing authorities that they are closed. Generally, they also try to notify their regular players and players that still have money in their player accounts. However, there are horror stories of casinos closing without much warning, and people who had money there are unsure of who to talk to about getting their money back. Each situation is different, so it is difficult to suggest what the player should do in that situation.
Generally, review sites try to list closed casinos on their websites as a means of notifying players. Sometimes they will allow loyal players to continue playing, but will not accept new players. For example, River Belle Casino has this policy in place at the time of this writing. They will not take any new players, but if you have money there now then you are allowed to continue playing. In fact, new players may not even be able to access the online casino using the traditional URL
Crazy Slots Casino has a setup similar to this description currently. Other casinos, like Rushmore Casino, are not technically closed, but review sites warn users that they have been deemed insolvent, so they strongly recommend that players do not play there.
Dealing with Closed Casinos
Usually, when a casino is closing, they will notify their players who still have money in their deposit accounts. These players will then have to withdraw their money from their account by a certain time in order to guarantee that they will get it back in a timely fashion. Occasionally the online casino will set a specific date after which players can no longer deposit money. Then, they will also set a date that games will not be available. This might be a gradual process, which provides plenty of time to react to the changes.
Sometimes, however, the casino closes quickly enough that some players cannot get their money withdrawn fast enough. If this is the case, the player should try contacting customer service before making any other efforts to collect their money. If that does not work, then the player can try creating a legal complaint, but these are sometimes difficult to win.
Even online casinos with great reputations may run into financial problems, just like any other type of business. That means that it is difficult to determine which online casinos will close and which ones will remain open for years to come. Generally, if players use a well-established online casino with good reviews, then they are less likely to have to deal with the online casino closing.