Live Dealer Casinos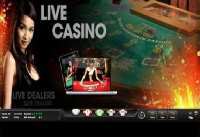 Live Dealer Casinos are just like they sound. They offer table games with live dealers. Many times this includes games like Blackjack, Poker, Roulette, Baccarat, and Craps.
These games offer players a live experience without having to leave the comfort of your own home.
It is the closest thing that an online gambler can get to the real thing when playing their favorite table games. This option actually uses real cards, so there is no need to use a random number generator here.
Players sometimes like this option better because they believe it is fairer when compared to online table games (which may be able to be altered without the player knowing by using complex software).
There are some online casinos that offer strictly live dealer games, but they are usually paired with online games that are not live, like slots, other table games, online horse racing, and video poker.
Although the player must usually register with the online casino that offers these games, the actual video streaming feature may be developed and shown by a third party. Some of these third parties are well-known software companies that provide online casino games as well, such as Microgaming and Playtech. Other companies offer only a live casino option. Ho Gaming, Entertasia, and Evolution Gaming are all examples of this type of software provider.
What is a Live Dealer Casino
A live dealer casino features a viewing screen that has someone on the other side of a camera who acts as a dealer for games like blackjack, roulette, and baccarat.
These dealers are occasionally set up in real casinos, but they may also be a staged location as well (so it looks like a casino to add to the overall gaming atmosphere). Those that are in an actual casino may even have real players sitting next to the player on the screen as well as the dealer. At real casinos, the screen simply acts as an additional player at the table. There may even be live casino options that are available from a television.
The screen setup is fairly similar throughout most live dealer gaming options. Usually, there is an option to enlarge the streaming video screen, a timer, a section of the screen where a player will place their bets, and information on the bet limits. There is also usually a chat option, which other players and the dealer may be able to view. There may also be a graphic on the table so that players can view the cards better, but this is not always the case. Some live roulette options will even allow the player to see other player's bets on the roulette table, even as the bets are being placed.
Live Dealer Games
Live Blackjack
Live Roulette
Live Baccarat
Live Poker
Live Sicbo
Playing at a Live Dealer Casino
Playing at live dealer casinos is very easy. These live options are available just like the other games. Players simply click the game that they would like to play and (usually) a high-definition, the real-time game will appear. Because the games are live, however, they may have set starting times or the player may have to wait slightly longer to begin a game than a video-based table game.
The dealer will have a camera placed in front of them, and the players make bets according to the prompts on the screen. There really is a real person with real cards on the other side of that camera, and he or she will read your betting choices on their screen and act accordingly. Because this is in real-time, sometimes play can be faster or slower than online games because the other players that you are playing against are real as well.
Players often enjoy this type of gaming option because it is much more "real." It gives the effect of being in a brick-and-mortar casino without actually having to go there. While the players can't see the other players, being able to see the dealer is sometimes helpful for players as well. Using real cards and real balls for roulette sometimes sets player's minds at ease if they are concerned about the fairness of more traditional online casino games.