eCOGRA Certified Casinos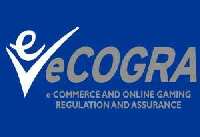 eCOGRA stands for "e-Commerce and Online Gaming Regulation and Assurance." It is a nonprofit group that provides independent gaming standards for online casinos. It was founded in 2003 in London. It tests casino software to be sure that it is safe, secure, and fair. It works as a player protection and standards group.
eCOGRA works to address things like underage gambling, protection of vulnerable customers, fraud and criminal behavior, protecting customer information and safeguarding privacy, allowing customers to have prompt and accurate payouts, and that online casinos have responsible marketing. Fair gaming, a commitment to satisfaction and support, and secure, safe, and reliable gaming are all emphases that eCOGRA uses.
eCOGRA allows those casinos that meet its strict standards to become certified eCOGRA Casinos. eCOGRA offers two types of certification: the eCOGRA Certified Software Seal and the eCOGRA Safe and Fair Seal. Those online casinos with the software seal use games from software companies that have passed a series of comprehensive audits. They must also follow certain protocols for their employees within the software company. Those with the safe and fair seal have been certified to use responsible practices at that online casino. They have fair gaming and offer services that protect players from fraud and criminal activity. In particular, the online casino should offer protections for deposit information to obtain this seal.
What is an eCOGRA Casino?
eCOGRA is a non-profit, independent standards authority online gaming organization, which helps players identify online casino and online poker sites that are fair, responsible, and above all safe to play at.
If an eCOGRA casino has obtained one or both of the seals offered by eCOGRA. That means that they have passed a series of safety and fairness tests. eCOGRA does independent audits of the online casino and the online casino games so that it can be sure that the online casino is fair and ethical. Although there is never a guarantee, online casinos that obtain this accreditation are less likely to have security or fairness problems. eCOGRA also evaluates the customer service, so having these seals is a good indication that if the player has a problem at a casino with the seal, then it will be addressed in an acceptable (and safe) manner.
Online casinos that have this seal will likely have a link to their awarding certificate on their website. Players should look for this seal before depositing any money at this online casino. If they do not have the seal, there is likely a reason that they do not—like that they have had problems with fairness or securing player's personal information in the past. Sample certificates include approvals for overall honesty and fairness, seals that specifically state the payout reports for certain types of games, and certificates for the validity of the random number generator software. The random number generator may need to be tested several times if a different one is used for various games.
Playing at eCOGRA Casino
Players use eCOGRA casinos just like they would any other type of online casino. However, they can play a little easier knowing that their information is much more likely to not be the victim of some kind of fraudulent activity or scam. Many online casinos say that they are safe, but not all of them can back up this claim. These seals are a good way for players to know if a particular online casino is going to be a good choice for their deposits.
The online casino will feature the eCOGRA seal on their homepage or in their casino lobby. Usually, players can click on this seal to see the certificates from this year and past years (if applicable). The certificate that lists the payout information may be particularly useful to players so that they can see which types of games have the highest payout rates. These rates are certified for the period of time that the certificate was obtained, so players can be sure that their gaming experience will be a fair one. Keep in mind, however, that these numbers are averages, so they include the players that won very large amounts of money. They should also list the various certificates for their random number generators, usually listed by the type of game. Ideally, every type of game that uses a random number generator should be included in one of these certificates.
Click to visit eCOGRA official website