Dotpay Deposit Casinos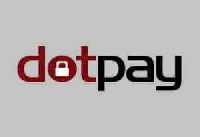 DotPay is an online payment service that is in the business of providing users to buy and sell over the internet as well as providing online casino players with a convenient way to deposit funds into their casino accounts. Headquartered in Krako, Poland, the company has been in the market since 2001 and is the undisputed leader in the European market among the firms that deal with financial services based on e-transfers between customers and online casinos.
Thousands of companies have chosen Dotpay owing to its stable financial condition, its many-year practice in a challenging market plus providing a wide array of services such as cash payments, wire transfers, and e-installments. Dotpay also offers clients a payment app that allows users to perform online shopping with just a single click.
Dotpay prides itself on fast payments through availing of various preferred payment methods. The company helps casinos make payments to their customers easily and securely by providing high standards of services as well as transaction security over the internet.
Formerly known as Allpay, Dotpay is licensed to operate by the Polish Financial Supervision Authority. With its great experience plus a profound knowledge of the market that's been gained from years of experience, Dotpay links players and online casinos so they make payments easily as well as safely. This is through employing high-tech technical solutions, as well as strict security protocols.
We have enlisted all Dotpay online casinos here that will take this deposit method, there are over 4 Dotpay casinos to choose from.
How To Deposit With Dotpay?
Dotpay is connected to over 45 payment method providers, over 20 eCommerce platforms as well as banks, alternative payment methods, and other processors. They offer payment services via e-transfer, mobile payment, cash, credit card, and Visa or MasterCard in a secure environment. The major attraction with the company is the low processing fee structure in addition to its services being availed in a variety of languages. Transactions can be made from anywhere in the world and customers can conduct transactions easily using their smartphones. Moreover, users are not obligated to register in order to make payments using DotPay. Deposit methods offered by Dotpay include;
E-installments: fully online without any additional integration
SMS Premium: Web Billing and PayPer Call across all operator networks
POS Terminals: allows for credit card payments in foreign currency
Alongside the many payment methods offered by Dotpay, their services are hosted in over nine languages and they deal with seven currencies. Users can additionally accept payments via Dotpay with their HireBee, Vantage, JobRoller, ClassiPress, and Clipper websites.
Advantage Of Using Dotpay
Dotpay's system is fully automated to offer easy monitoring of cash flow as well as easy reports plus client support. There are no fixed fees and users are also offered free technical support. When it comes to security, Dotpay is PCI DSS compliant and is as well certified for a raft of requirements dealing with the Cardholder Information Security Program for a host of credit cards. The basic features of the payment portal provide users with;
Payments accepted via PayPal, PKO, mBank plus Credit Cards and much more.
Users are allowed to view their checkout form in any of the 9 different languages in use.
Top-notch security – all form data are verified and signed every time the gateway communicates with a payment provider.
Instant payment notifications [IPN] are supported – payment providers communicate with the gateway every time the status of a transaction changes through using a hidden channel. With this system, no user action such as clicking the 'back to site button' is required in order to complete the transaction.
Disadvantages Of Using Dotpay
The major disadvantage of Dotpay is that it is mainly offered in Poland. The payment gateway is targeted at Poland and is not useful to customers from other countries. Additionally, some deposit and withdrawal methods plus other types of transactions may involve some amounts of transfer fees. This is a disadvantage for those who were hoping for free transfers of their funds. And though a wide range of credit cards can be used on this gateway, there are a few who might be disappointed for their preferred method of payment not being among the ones offered by Dotpay. Moreover, whereas gateways open up the payment methods to bank wire transfers, not has access to a bank account. As such, players will have to check the terms and conditions before applying to use Dotpay's payment gateway.
Click here to visit Dotpay official website