eWalleteXpress Deposit Casinos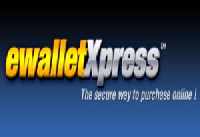 EwalleteXpress is an electronic wallet (e-wallet) that stores money in a digital account and then transfers it to whatever merchant that the user chooses. EwalleteXpress allows users to not only deposit money with their favorite online games and casinos, but they can also withdraw and transfer funds as well. This payment system requires that users have a checking account to register with Ewallet Xpress. The checking account will be verified before any large transactions occur, but users can still fund their accounts with smaller amounts during the verification process. Once the checking account is verified, then users still have a transaction limit, but the limit is much larger.
EwalleteXpress is a Navaho Network subsidiary. It not only offers services relating to online gaming and gambling, but users can also pay other bills and purchase goods online with this service. It is an instant fund transfer system that allows users quick deposit times and a secure payment method. EwalletXpress is only available for residents of the United States, United Kingdom, and Canada.
Depositing with Ewallet Xpress
First, users must sign up for an ewallet Xpress account. Users just have to go to the ewalletXpress website and submit their personal information in the registration fields. Generally, this process only takes a few minutes. Users must deposit funds into the ewallet Xpress account before using the account at any online casino. Users should go to the cashier of the casino of their choice and look for the deposit options. Pick wallet xpress from the list of options and enter the amount to be funded. Then, the user is taken to the wall Xpress website and they must enter their ewallet Xpress account information and verify the amount to be deposited. If prompts are followed correctly, the user should be diverted back to the casino website to instantly be able to use their deposited funds.
To withdraw your funds from the casino to ewallet Xpress, head to the cashier section of the casino website. Chose the withdrawal option from the menu and select the amount that should be withdrawn. Select the method as ewallet Xpress, and the site should take the user to the ewallet Xpress website to complete the transaction. Most withdrawal requests take at least 24 hours to process.
Users can also withdraw funds from their wallet xpress account to their actual checking account as well. Users should call or e-mail wallet xpress to request a withdrawal. They do charge a fee for this service, and it takes about seven to ten days.
Advantages of EwalletXpress
Ewallet Xpress is fast and relatively easy to use. The ability to withdraw funds is also very attractive because that is unusual for many payment methods. EwalleteXpress also offers 24 hours a day/seven days a week live support and customer service. It is also helpful that the service allows users to separate their bank account from gambling and online game account.
The online gaming and gambling community does not gain access to the user's bank account or card information through this payment method. Therefore, users may be more comfortable using this method knowing that their information is not shared with anyone outside of ewalleteXpress.
Disadvantages of EwalletXpress
EwalletXpress requires users to have a checking account to sign up for the service. This might be a severe limiting factor for some users. It also takes time to verify the checking account to have full use of the services. This service does charge fees for reloading the account, with the lowest fee being about $2.50. The checking account payment option is the cheapest, but they do offer other funding methods. This service is also only offered to residents of the U.S., U.K., and Canada
As of November of 2010, ewalletxpress has ceased serving the online casino community. A new deposit method for online casinos will have to be used, such as usemywallet or prepaid cards.