GiroPay Deposit Casinos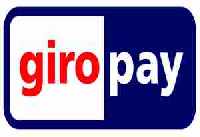 If residents of Germany are looking for an online payment solution, they can try Giropay. GiroPay uses a direct banking interface while processing payment that is very much different from most payment processors, which use an e-wallet interface. As their service is available with most of the major German banks, it has become a popular way among German players for depositing into online casinos.
It's easy to check whether you are eligible to use their services, just visit the official website of Giropay to find out if your bank is there in their database. In the bank look-up feature, you can enter your bank information and get confirmed in minutes, you then can deposit to more than 70 online casinos listed above. It can be assumed that the number of participating banks in the process is growing quite large.
We have enlisted all Giropay online casinos here that will take this deposit method, there are over 60 Giropay casinos to choose from.
Depositing with Giropay
After you get a confirmation that you can pay to online casinos through Giropay, use it as the banking method and start depositing online. For this, you need to log into the casino where you would be making the deposit, and head to the cashier there. After entering the amount that you would deposit, select Giropay as the payment gateway. After entering your bank number in the required space, you would be redirected to your desired bank's site. Now, complete the transaction directly from your bank account. You do not have to disclose any confidential information to any third party and the whole transaction would be completed within a few seconds.
Giropay Pros and Cons
For German online casino players, Giropay is a good option for transferring the fund into gaming balance. You can get unbeatable security and complete the transactions at your convenience. It was possible to increase the gaming balance within a few seconds with their services and that too from your bank account directly. And for all this, you don't have to provide them with any confidential information.
Another benefit that you get while transferring funds through Giropay is that they do not charge you anything for providing you the service. It's totally free for you, as they collect the fees from the casinos and you get the whole amount you transfer as your gaming balance.
However, only those players who hold a bank account with some major German banks, that Giropay has collaborated with, can avail of this service. Thus, residents of other countries cannot use this easy-to-use service; however, there are certainly other such services available in their countries too. For better information, you can check out some other reviews by us.
Another drawback of Giropay is that you cannot withdraw any cashback through them. Hence, for collecting your winning cash you need to search for other processors. It is always recommended by us to discuss the matter with their support executives so that you do not waste time in the process
Click to visit GiroPay official website