iDebit Deposit Casinos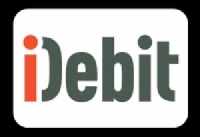 iDebit is an online payment method that utilizes the users' personal bank to make instant, secured transactions without using a credit card. iDebit serves more than 20 countries and a number of banks within those countries, but the user must have a personal bank account at one of iDebit's supported banks. iDebit will not use business accounts. Users must also have access to online banking with their particular bank. Users must be over the age of 18. Bellow, we have 26 online casinos listed that accept iDebit and are organized by ratings
iDebit is particularly popular with sports betting sites in Canada. The biggest benefit of iDebit is that players can do real-time transfers from Canadian bank accounts. The instantly available funds and quick sign-up time make iDebit a good online payment method for quick betting. It is also popular because the fees are relatively low and it costs nothing to create an account.
Online casinos may favor this system because they receive instant confirmation once the funds have been transferred. In addition to transaction history for each customer, iDebit also tracks transactions for the merchants as well. There is no data storage required for merchants—iDebit does not store any data at all because of the way that it works with user's banks.
Here you can find a list of 60 online casinos that accept the iDebit Fast Bank Transfer deposit method in (2023). Choose your favorite casino here and make a deposit with iDebit.
How to deposit with idebit
iDebit allows users to connect directly with their personal bank. Simply select iDebit as a payment option. Log in or check out as a guest with iDebit. Users select their personal bank from a list of banks, and then the user logs in with their online banking credentials and approves the amount of the payment. The user must also answer a security question created by the bank. iDebit will then issue a receipt for the transaction and the online game or casino receives an instant payment confirmation.
Users are not required to create an iDebit account to use the online payment process the first time. Users can choose to create an account before using iDebit or make a payment as a guest and then create an account. iDebit does not use any kind of approval process to create accounts for users.
iDebit does charge a transaction fee for certain transactions. There is no cost to sign up or create an account, but there is a charge each time the user makes a payment from online banking. Transfers from the iDebit balance are free. Transfers from an iDebit balance to the bank account will also incur a fee. However, the fees are minimal, with the highest fee currently being $2.00.
iDebit may have maximum deposit restrictions on some gaming sites, and it also has an overall transaction limit. At this time, only 11 online casinos accept iDebit as a deposit method.
Advantages of iDebit
iDebit works directly with the user's bank so that the user's bank credentials stay with the bank. iDebit does not store the data, and the online casino does not have access to the information. That way, everything is secured. The payment process does not involve using a credit card or debit card either, which makes the entire transaction much safer. iDebit's security certification team monitors transactions. Personal information is transmitted using 128-bit encryption technology, which helps protect users from fraud. Even the iDebit servers are physically protected with a palm scanner and 24 hours, seven days a week security guards.
iDebit transfers money in seconds, which is helpful so that gamers and gamblers do not have to stop gameplay to wait for their funds to transfer. iDebit also tracks the account balance and payment history so that users can check their balance online at any time.
For a fee, iDebit can also deposit funds into the user's personal bank account. This is unusual for many online payment systems, and likely very helpful for gamers who want to be able to collect their winnings directly. However, this feature is not available in all countries and can take up to five business days to receive the funds.
Disadvantages of iDebit
Users must have a bank account at one of iDebit's supported banks. iDebit only serves approximately 20 countries, and fewer banks within each of those countries. As of right now, iDebit does not serve any banks in the United States.
Click to visit iDebit official website