SEB Pank Deposit Casinos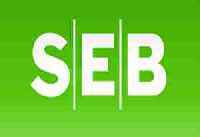 SEB Pank is Estonia's second-largest bank. The bank allows for a direct transfer of funds between its clients. In this way, players can deposit their funds into their online casino of choice provided that both sides hold accounts with SEB Pank.
Eligibility
To access this service, you will have to hold an account in one of SEB Pank's Estonian branches. This will require being a resident to Estonia. It will also require the same from the casino you want to transfer money to.
Depositing with SEB Pank
If you can get a SEB Pank account now is time for the first step, which is to find out if your casino can accept transfers through the same system. To find the casino's bank account details take a look at the online website where its written for banking or deposit methods. When you are certain that the transaction can take place, you need to then fill out a form with all the information and send it to your casino.
The second step then is to open a session online on your SEB Pank and direct the transfer. As soon as the casino verifies the validity of the transaction it will open an account for you to start playing.
Advantages of SEB Pank
This method offers substantial advantages to both casinos and players since it eliminates the need for a third-party e-wallet to transfer money which minimizes the exposure of personal or sensitive information to third-party providers. All transactions take place within SEB Pank's inner servers providing maximum security on each transfer.
Another great advantage is the value that your money will keep by skipping over the in-between men by handling your transactions directly with the casino. Which is the best way to keep more money in your pocket to play?
Disadvantages of SEB Pank
There are, however, some disadvantages to this amazing method. Although the optimized security and the saving in fees with each transfer, it also true that things are not as smooth as they could be.
Even though you and your casino are operating within the umbrella of the same SEB Pank system, this, regrettably, doesn't translate into a faster transaction. Every deposit is subject to a period of two to three business days. The casino has to wait for the right notification from the bank and the identification of the player, before opening any game account for him. But what is lost in waiting, can be saved in the reduced transfer fees when using SEB Pank granting more value to your money transfer.
Another drawback is that both the casinos and the players must hold SEB Panks accounts. To find out whether your casino can receive funds this way visit their internet site or in person at the front desk and ask for information on how to do it. You must make sure you let your casino of any money transfer to them. Your casino will then credit your account.
One last disadvantage is that this service is only available to residents of Estonia, which hinders its reach. This alone could deter potential players from exploring and using this method. But it may be possible to hold a SEB Pank account as a foreigner in another country, provided that they count with an international service office. Check out with SEB Pank if this is, in fact, a possibility and request the proper forms to create an account with them.
Players can expect other banks in other countries to follow SEB Pank's method for easy transfers with local casinos, or even international ones. There exist also the opportunity to always use international bank wires for money transfers.
Click to visit SEB Pank official website