All Comoros Licensed Casinos Listed
Comoros Licensed Casinos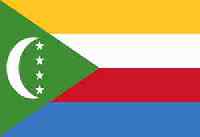 Comoros is an island nation to the east of Africa that serves as a licensing authority for several online casinos. The country has worked as a licensing jurisdiction since 1999 when the government of Anjouan (one of the islands in Comoros) passed the Computer Gambling Licensing Act. For a list of casinos currently licensed by the Comoran government, see this page.
Available Licenses
Anjouan currently offers international gambling licenses to virtually any offshore company. There are seemingly no limits to the type of gambling that can be offered with the license, although historically Comoros has only offered such licenses to casinos. Comoros does not require companies to get multiple licenses for each of their services.
Application Prerequisite
The government of Anjouan does not require many of gambling license applicants. The company must be registered in Comoros and provide basic information about its services to the licensor prior to being considered for a license. The prospective license holder does not need to have any physical presence in Comoros but must use an Anjouan bank to hold cash for operations.
If the company is approved for a license, it must pay the government of Comoros a licensing fee of $20,000 to be legally placed in the jurisdiction's registry. The casino must then pay an annual fee of $1,400 to maintain the license.
Minimal Audits
Casinos licensed by the jurisdiction of Comoros are not required to undergo routine inspections from the Comoran government. Because of this, players should use caution when choosing to play at an online casino licensed in Comoros. Specifically, the casino should provide independent proof of fairness, along with a proven record of financial stability.
List of Licensees
The Comoros online gaming jurisdiction does not provide an online list of its licensees. However, the list on this page displays all online casinos licensed in Comoros that we are aware of. If you find an online casino that claims to be licensed in Comoros but is not featured on this page, we urge you to use caution.
No Assistance with Disputes
Comoros does not provide players any assistance with disputes. If you have a problem with a casino licensed in Comoros, you should first contact the casino directly to try and reach a resolution. You can also use a third-party affiliate with a complaints system to get outside mediation. If neither of these solutions works, the casino's word is final. Comoros will not get involved with any complaints
Suite 2100, ACS, B.P. 269, Mutsamudu – Anjouan, Union of Comoros