All Kahnawake Gaming Commission Licensed Casinos Listed
Kahnawake Gaming Commission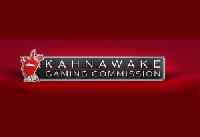 In the borders of Quebec Canada, the jurisdiction of Kahnawake is mainly Mohawk territory. This area houses the Kahnawake Gaming Commission (KGC), one of the most respected regulators for online gaming in the entire world. Ever since they opened in 1996, they have never stopped helping players get a professional and reliable service, just as they deserve. Right now over 42 of the listed casinos are licensed by the Kahnawake Gaming Commission (KGC).
Variety of licenses
The variety of licenses you can get is partly the cause for the Kahnawake popularity. Whenever you have an online site that opens a poker room, a casino, or a sportsbook, the Kahnawake Gaming Commission will be able to enforce regulations. This comes in handy when one site has several of these services.
Audited / Fair
You can be sure that a casino's games are totally fair if they are licensed by Kahnawake. If a casino wants to apply, they must first be subjected to a test by a third-party auditor which is affiliated with Kahnawake Gaming Commission. These auditors include iTech Labs, and Gaming Associates and not to mention TST. Only by passing the test, will the casino get licensed. Also, they must constantly prove fairness in order to keep the said license.
Fair Acceptable Agents
They have a habit of getting agents to screen the future owner, on top of the fact that they always provide fair games. Each applicant must be up to the highest moral standard of conduct. This lets the Kahnawake get a nice perspective about every license. They only give out licenses to people who are sincere, professional, and fair. Through all of these processes, you can rest easy knowing that everything is fair when it comes to the Kahnawake
Displaying the Licenses
There will be casinos who try and fake the Kahnawake Gaming Commission seal of approval. To combat this, most casinos will send you a link with their official entry on the Kahnawake Gaming Commission website. If they don't provide it, just go to: www.gamingcommission.ca. , which is their official website. Once there pick the list you like and search for the online casino you are interested in.
Resolution of disputes
As far as handling player complaints go, the Kahnawake Gaming Commission is one of the best. Their priority is to resolve any issue as quickly as possible. Most problems can be resolved between the casino and the players, not involving the Kahnawake. But if you still think you are mistreated, the Gaming Commission will take over the case. Depending on the case, they may employ one of their full-time agents to help solve the dispute. If nothing works, this resolution officer is sure to do his job.
If you have a dispute, you can register it by going to the Kahnawake Gaming Commission web page and writing in the feedback section. This will get you the required attention needed in order to have the best experience that you can have.
P.O. Box 1799, Old Malone Highway, Kahnawake Mohawk Territory, Quebec, J0L 1B0, Canada
Fax:+1 450 635 1139
Click to visit official Kahnawake Gaming Commission Website