BetOnSoft Casinos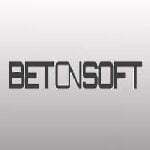 BetOnSoft which is now Saucify was developed in 2006, and it has operations in 11 different countries around the world. BetOnSoft's software allows online casinos to integrate sportsbook applications, poker platforms, bingo games, and large progressive jackpots. They also feature 24/7 customer support and payment processing methods. BetOnSoft also has its own comprehensive VIP bonuses and loyalty program. They even offer an option for players to participate in online slot competitions with other players from around the world. Note: BetOnSoft is now Saucify
BetOnSoft's technology focus has allowed them to become a leader in advancements and innovations, providing unique gaming opportunities. BetOnSoft casinos include some of the newest online casinos available, but that also means that they have the latest games and technology available as well. They also take pride in adding new games very frequently and incorporating some of the most innovative features of the online gambling world. The software features over 100 games that also have a smooth presentation with quality graphics and sounds. Players will love that they offer new games that are not only exciting, but they are seamless as well.
BetOnSoft is growing at a steady pace and is adding new casinos fairly frequently. Their worldwide expertise is very appealing to a wide variety of people, and the ability to customize the software package to fit a particular online casino makes this software even more appealing. Its user-friendly appearance and function keep players wanting to come back again and again.
BetOnSoft Games
BetOnSoft's focus is definitely only providing the latest and greatest technology to their online casino clients. For example, they offer unique 3D Video Slots. Despite the fact that most software providers do not have any 3D Slots at all, BetOnSoft offers 70 different variations of 3D slots. They feature lots of opportunities for free spins and original bonus feature content. They also have the more traditional casino games as well, including Blackjack, Classic Slots, Roulette, Video Poker, and Craps. They also have bingo games, sports betting opportunities, and poker.
The brand is well-known for its impressive bonus opportunities on most of their games, and they also feature generous promotions as well. Large monthly promotions, loyalty rewards, free spins, and slot tournaments are just a few of the perks that BetOnSoft casino software offers. They also have a large progressive slot network, which allows them to offer much higher jackpots than other software companies. Because BetOnSoft allows online casinos to customize their software, the perks, payment platforms, and regulations are usually slightly different at any BetOnSoft Casino.
This software is generally offered only as a download. Some BetOnSoft Casinos include Atlantis Gold Casino, Black Lotus Casino, Grand Eagle Casino, The Mandarin Palace, Treasure Mile Casino, and Planet Casino. Unlike many software programs, BetOnSoft's services are generally available to players located in America.
Fairness and Security
BetOnSoft has locations in Curacao, Malta, South Africa, Australia, and the United Kingdom. They use an independent company to test and audit their games every month, but they have not yet received their eCOGRA certification. eCOGRA is the leading testing and accrediting agency in the online gambling world. They ensure that games are both random and fair, and then issue a certification that the online casino can display on their website to show that their games have been tested and certified. eCOGRA is based in the United Kingdom, and it is considered one of the highest levels of fairness certifications that an online casino can achieve.
Although BetOnSoft has not been eCOGRA certified, Certified Fair Gaming, an independent company, tests the games each month to ensure their fairness and compliance with required regulations. BetOnSoft also monitors its internal software continues to be sure that all financial information obtained is kept safe and confidential. That way players can be sure that not only are the games fair but their payment and withdrawal information will not be shared with third parties. The online casinos where BetOnSoft provides service have usually also been tested for fairness and randomness. They also keep an eye out for player unfair practices and collusion as well. BetOnSoft software and online casinos all strive to provide randomized games that are both fair and fun.
Click to visit BetOnSoft official website.