Fuga Casinos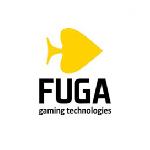 Fuga Games Technologies is providing original games since the mid-nineties. With a vast presentation of land-based products, it has now moved into the online arena. Don't let their fresh arrival fool you, this company has a team of seasoned veterans. Fuga Games holds a long history of more than 20 years.
Developing new original game designs topped with the most sophisticated technology. Their land-based creations are now transitioning into online casinos and mobile devices. Moreover, casino operators also benefit from tool kits and specialized software.
Fuga Game Services
Fuga Game services have a unique characteristic: they can be tailor-made. In other words, casino operators can ask for special modifications. For example, Fuga Games can modify their land-based games to appear in any language or conform to specific regulations.
For this reason, it is possible to see a Fuga game as a single-player slot or embedded in a multi-game with more than one screen.
Fuga has modern software applications for casino operators. Developing advanced GDKs (Game Developing Kit) for the creation of different gambling applications. This allows for shorter times for the placement of products in the market.
Their Software Gaming Platforms helps operators to adapt their products to different gaming boards and regulations. An example of this is their long-lasting C6A platform for the Italian market.
Lastly, Fuga Games takes security into their own hands. Offering a security system to protect against any frauds or illegal modifications to games. Using a unique Identification and Protection Key (IDPK) for each individual game software.
Every game is protected then by a unique identifier, encrypted data of the operating system and the game content, and by checking the integrity of the game software.
When the system detects any illegal modification, or invalid connections to the game board, the whole system blocks until a proper restoration takes place.
Fuga Gaming Software
Games are what make Fuga the most salient competitor in the casino world. Transitioning from land-based into the online sphere, Fuga games come with a variety of unique themes and quality designs.
Showing years of experience in game developing, Fuga slots is bringing a fresh take to players with the top-notch 3D rendering of all the table games classics. Blackjack, Roulette, and Poker get all the attention with their beautiful layouts and colorful images. Let alone their big progressive jackpots.
Fuga's software is behind the success of their games. Take for example the Mystery Jackpot Systems that offers a multitude of options to gamblers and casino operators. Adding special bonuses and a flexible system to make sure players have hours of entertainment.
On one hand, players can enjoy single slot games. For instance, slot 3 Elements brings players into an archeological exploration where a big glowing skull will reward them with special bonuses and free spins.
The single-slot Bat-Family makes a horror-themed game with a fun twist. Players spend a night in a haunted old castle with a family of vampires! When the whole family is met players get free games and spins. They can also collect flasks inside the family's vault and achieve the big prize.
On the other hand, multi-game slots are also available. Fuga presents the Slot Club series I, III, and V. Each slot contains a selection of Fuga games to choose from. Slot Club V offers up to 25 games to players. Each slot machine has a wide range of classic themes and the expected bonuses and free spins.
Many of the land-based games can operate in a progressive jackpot mode. For this reason, gamblers get the thrill of playing for the accumulated jackpot with every spin they make.
Expanding Market
Fuga Games Technologies has walked a long way since its inception 20 years ago. First by making a name for themselves in the Italian market. And now by expanding to the rest of the world.
By offering their games with the latest HTML5 script to reach mobile and desktop players. Providing high-quality Software Developing Kits (SDK) to operators. And bringing the best of the classic games into 3D, Fuga Games has a bright future ahead of them.
Click to visit Fuga Gaming Official Website