Just For The Win Casinos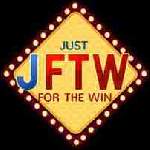 Established in 2016 by renowned veterans, Just for the Win (JFTW) is a Sweden-based development studio whose goal is to create premium graded video slots for online gambling inspired by the latest technology in gaming mechanics that has never been seen before in the gambling industry.
They intend to leave the players in awe and excitement with their new and advanced games that are optimized for whichever platform they are played on mainly mobile or desktop.
With the release of their first title, they set their standard of gaming quality and experience which was much better than expected from a new market player. To provide more support and help to their customers and full assistance on their issues, players can reach out to them at hello@justforthewin.com or mail at their Headquarters located in Stockholm with development in central Gothenburg.
If you have tried your luck at any of the biggest casinos in the online industry, then you might have heard about Just for the Win. If not, then you haven't tried them all. Just for the Win is a game development studio that aces in making quality games with their casino software for online casinos. In its years of development, JFTW has gained a considerable reputation in the market for its worthy games. Through its renowned casino affiliations and services, it has and still providing more than a million players around the world
Although established in 2016, JFTW has quickly ranked through its competitors and has emerged as one of the biggest developers in the market. All this was made possible because of their determination and hard work in producing quality games for their customers and making them better with time. A team of 20 professionals from around the world working together and putting their own unique ideas and creativity to create something is what made this company break the sky.
The Games
In its two successful years, JFTW has released two of the best games in the market: Lucky Links and Goldwyn Fairies. These games were developed with customer satisfaction in mind. So far, these games on their own have proven to be the best.
Lucky Links was released in 2017 and has been one of the most successful games ever released in the market by JFTW. A five-reel slot with four rows that comes with a 20 generous pay line is what heaven looks like for a gambler. The game comes with five high-value symbols which are Lucky Link's logo, a silver horseshoe, a triple red seven, a four-leaf clover, and an acorn, as well as the playing card symbols i.e. heart, spades, diamonds, and clubs. The colored gems in the game have lower value but, nonetheless, accompany a win.
Released prior to Lucky Links, Goldwyn Fairies had already taken the market with its demo play. The game came with awe-inspiring graphics and a theme that entails the story of an enchanted forest where the goal is to collect rare sparkling gems of the Four Season Fairies i.e. Summer, Winter, Spring, and Fall. The Fairy Queen Goldwyn's arrival makes the game wilder when she rewards every player with a re-spin and leaves behind a wild on her every appearance.
Along with exceptional graphics and unique themes, the games came with wild substitutions and re-spin which increases their chance of winning with a high payout rate. With interesting themes and good graphics, the soft background music enhances the game-play and makes it addicting the more you play. With payout rates of more than 90%, the games have been approved by many customers
There Relationship
These games were provided to Quickfire and Microgaming operators who were equally pleased as their customers with the games. JFTW, in the initial years, has started off much more successfully than many others and has been expected by enthusiasts to come up with more exciting and innovative games in the coming years.
The Bonuses
Although there are no wilds or bonuses in both games, there are, however, some features that are good enough to compensate for both. In Lucky Links, during a spin, one random symbol will be enclosed in a golden frame. If these symbols align horizontally next to each other then it triggers a re-spin.
Download/ Instant Play
Both of these games by JFTW are available on mobile and desktop devices which include Windows, iOS, and Android so the players can play at any time.
Auditing
All the games have been deemed fair play by the UK Gambling Commission. This is done frequently by the commission to make sure there is no doubt in the fairness of the games and the customers are not subject to any fraud by the company which is, in this case, non-existent.
Click to visit JFTW Official Website