Kootac Casinos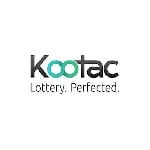 Kootac is an online lottery software provider that was launched by leading gaming experts and boasts over ten years of industry experience.
Operating out of Malta, the company allows bettors from all around the world to take part in syndicate-style games and reputable lotteries.
To date, Kootac casinos have prided itself in having served over 300,000 customers to date coupled with having paid out over 20 million Euros in prize money.
Kootac provides B2B [Business To Business] solutions to companies that are looking to compete in the online lottery industry and existing companies that wish to utilize the company's platform are also able to take advantage of its full turnkey solution that's been designed to seamlessly integrates with their existing set-ups. These solutions comprise software updates, technical support, a full suite of marketing tools, regular security audits as well as a toolkit designed to create new revenue streams. The platform comes in an eye-catching and user-friendly interface that packs an automated payments feature among others. With its years of lottery experience 4 of which have included dealing with web-based lotteries, the company has easily positioned itself as an industry leader when it comes to B2B solutions for online lotteries.
Kootac Games
Kootac offers a wide array of syndicate-style and lottery games with their gaming platform being offered in over fifty countries while connecting customers to the largest and the best lotteries from all over the world. Players who love lottery games are able to play the Super Enalotto, Powerball, Euro Jackpot, Euro Millions, and Mega Millions in addition to many more.
The company also offers syndicates for all the above lotteries where individuals come together and pool their resources in order to play number combinations together as a group. As a result, any consequent will be shared by all active members of the syndicate of which the amount is dependent on the number of shares every individual possesses.
Each syndicate-style game represents a given number of shares that place bets that are split between two weekly draws. Say a player bought 2 shares for Mega Millions; the syndicate will place 100 bets split over two draws after which the bets will be assessed and the prize money be divvied up amount members and then the syndicate is closed for a new one to begin for those who decide to buy-in.
The Relationships
The Kootac software solution offers clients an all-in-one turnkey solution to become part of the exciting online lottery scene. This turnkey platform also enables partners to acquire expert knowledge as well as the technical resources necessary for launching a top-notch online lottery brand and it makes for an excellent choice for new operators. Moreover, it's suited for companies that wish to acquire the ability of cost-effective and easy-to-use service in order to have a head start in the lottery market. The Kootac platform can also be easily added to an existing platform to provide a white paper solution to boost a company's reach to broader and newer markets. Further, the platform offers an ultra-secure and fully functional payment system that employs most of the popular online banking methods in the online industry. Moreover, players will certainly welcome the chance to win the largest jackpots in the world through the company's lottery games.
Casino Bonuses
Kootac offers players far more than just a chance to win unbelievably rich jackpots and the bonuses on offer include the Money Back Guarantee, the No-Risk First Play in addition to The More You Play, The More You Win VIP program. With flexible betting through a unique feature known as Booster Ball in addition to loyalty bonuses, VIP discounts as well as the company's 100% payout guarantee for lottery winnings, Kootac certainly rolls out the red carpet for players.
Download/Instant Play
One of the great features of Kootac is the fact that users need not download any special software in order to take part in the games. With a simple to use, supremely intuitive and built-for web platform, the system is an instant-play module that is dedicated to grow business, increase revenue and generate industry-leading conversions.
Auditing /Licensed
Play with Kootac means that players' money is safe and secure, and any details users provide stay in-house. Security of personal information is taken extremely as the company employs 128-bit SSL encryption from the world-leading digital security certificate provider, Geotrust®. Regular audits are also undertaken to the highest standards of internet safety. Kootac NV is licensed and regulated by the Government of Curacao.
Click to visit Kootac official website