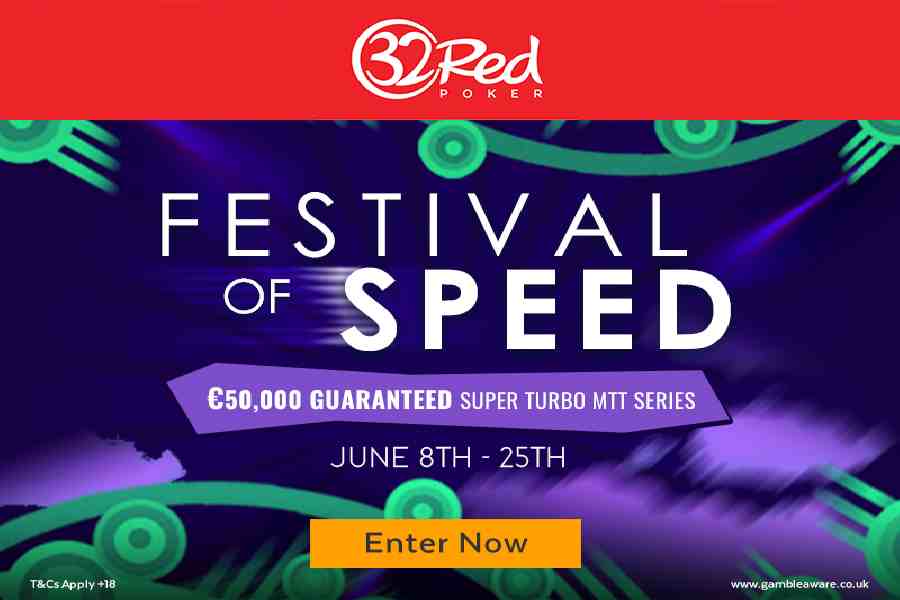 Summer is around the corner and for the auspicious summery evening, here's the Festival of Speed. Be it Glastonbury or Goodwood, this June gets set to enjoy 32Red Poker from MPN.
From the headline act to the festival of Speed Super Turbo MTT series, to the blazing Cannon and Turbo SNGs, to the supporting artists, there's a hand full of things to enjoy upon.
For those who are playing for the first time, 32Red Poker is one of the most popular and largest online poker website for the players residing in the United Kingdom and EU.
The speed festival will run from 8th June to 25th June, to please players in UK and EU. Furthermore, newcomers and tournaments fans can enjoy the eventful ride with the Festival of Speed Super Turbo Multi-Table tournament Series-39 events. Plus, casino lovers can also scoop fun from hundred of slot and table games available.
Apart from this, the game also features Blazing Cannon as well as Added Money Turbo SNGs. So Folks play more to snap more!
Do you want to enjoy the super-exciting fun blaze gambling game, have a rundown of how it works:
Tournament Series:
The foremost thing in the tournament is its Tournament Series. With the prize money of EUR 50, 000, the super speed is more exciting to play with.
There are overall 39 massive events, however, many of which have bargain basement buy-ins. Just remember that the speed is the word! So play fast.
Blazing Cannon:
Be in a tip-top condition to enjoy Blazing Cannon. It's an old- favorite 32Red Poker that everyone loves to play. Featuring a mini-video game that runs in tandem with super fast Blaze Poker, a player can win rewards. So be a qualifying player, and get a chance to win Euros. All you need to do is:
Win the initial cash prizes
Get your hands on 20 raked real money Blaze Poke table
Get seated on a virtual firing range
And aim to the stack of playing cards
What do you think? Will the cannon misfire, or the blazing poker will strike the gold suits? Get into the game to know!
Money Turbo SNGs:
For some added money, there are extra cash prize pools of Turbo and Super Turbo SNGs that you can buy at a price range between EUR 1 to 20. Also, you will see the eligible tournaments in the Sit and Go lobby with the added money. These tournaments or special SNGs will appear at Poker Lobby under SNGs. Gear up and find your Super Turbo and enjoy the festival period.
Want to grab more! You can try winning more Bonus Promotions. But to win these, you have to participate in all parts of the festival. Just carry out some tasks and earn the exclusive entry to the EUR 5,000 Festival Flash Freeroll that will take on 2nd July. Here is the list of tasks:
Fire the Blazing Cannon twice
Play 15 Festival Of Speed SNGs
Play 10 Festival of Speed Events
Are you ready to be the champion of gamblers? but before playing, just make sure to keep these things in mind:
• The Company has the authority to cancel or amends any instance of any network tournament at any time
• You cannot create more than one account with you poker room failing which the company can forfeit your prizes
There are no alternative prizes for players
Only players who have Flash Player version 9 will be able to play
You will get only one attempt per game
Play on Free Play and Heads up table is also excluded
So, if you are living in one of the aforementioned countries, check out the 32 Poker and get gambling. June is all set to become more scorching hot! Are you