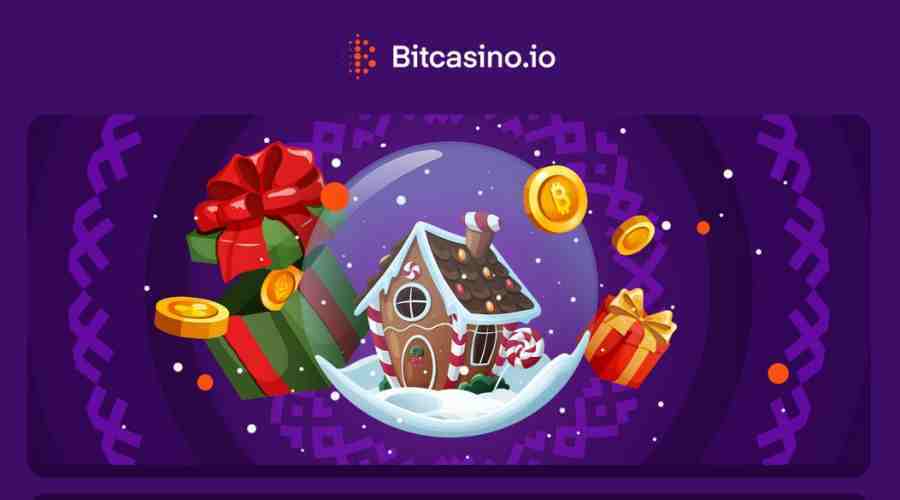 Great news, ye` joyous people, Bitcasino presents you with 33 days of Christmas. The casino has dedicated daily offers for its loyal players with seasonal cheer. After all, the only thing better than Christmas is Santa's gifts. If you are a sucker for goodies, you are in the right place. The massive red bag of presents includes enormous cash prizes, free spins, numerous casino boosts and has its climax with exclusive VIP tickets to English Premier League games. Well, hang around to find which games.
Additionally, the season of merry extends to 7th January 2022. What a great way for anyone to start their year. If you are wondering how to get your hands on this package, then rush over to the Bitcasino website and sign up quickly before you miss out on the fun.
Bitcasino Santa`s Daily Gifts
First, you stand a chance at winning not one but two gifts each day. Every day at 00:00 GMT, Father Christmas slides down the chimney to reward two excellent players from the Bitcasino.
However, the two presents are not identical, meaning it is up to you to win and find out the gifts. Additionally, it would help if you were keen to note the promo runs from 6th December – 7th January. Just think of how many presents you can bag if you bring the game on.
How to get the daily present
Getting the daily gifts is pretty straightforward. First, make sure you log into your Bitcasino account on the dates above. Secondly, always check the promotion section for updates on the daily prizes.
It is important to note that Bitcasino entirely decides the choice of presents. Finally, carefully follow the guidelines for receiving your gifts once you win your present.
Santa`s Lucky Raffle
How would you like to earn tickets to a massive raffle alongside your double daily prices? The great news is, you can. Get in the running for over 100 prizes, from cash to free spins and VIP tickets.
How to get into Christmas Raffle
Santa's Christmas raffle is equally easy. First, get into the Bitcasino Santa promotion between the 6th December and 7th January. Secondly, place a 10BTC wager on any game and stand a chance of winning a raffle ticket.
Thirdly, once you finish placing the wager slick onto Santa`s house floating at the bottom of the screen, to clarify, by clicking the house, you claim your ticket.
Finally, you can earn up to 3 tickets by just placing your 10BTC minimum wager on any game. All wagering reset daily at 00:00 GMT. Subsequently, the raffle will take place on 12th January 2022, after the festive dust begins to settle.
[ftctabox boxstyle="1″ buttonstyle="3″ linkurl="/go/bitcasinoxmas/" buttontext="Santa's Lucky Raffle" buttonalt="Santa's Lucky Raffle" buttonalign="center" logoalign="center"][/ftctabox]
Santa's Bag of Cheer
With everyone having eccentric fun in the holiday season, Bitcasino has equally great news wrapped in over 100 prizes.
To begin with, get a chance to grab sports jersey 50 for Arsenal Fc and 20 Evil Genius. Also, players stand a chance to win ridiculous cash prices with Bitcoin. The quantity of the BTC range depends on its value. 3- 100mBTC, 1-75mBTC, 2- 50mBTC, 5- 25mBTC and 40-10mBTC.
Finally, all eyes will be eying the exclusive VIP tickets. Note that 1BTC is the equivalent of 43,469.17 EUR. Two players will get arsenal VIP tickets, while three players get Southampton VIP tickets each for two.
Bitcasino Terms and Conditions
Just as every good thing deserves rules and regulation, the Santa special has a few terms and conditions to regulate and safeguard the tournament.
Foremost, only players from Bitcasino can engage in the 33-day promotion. Secondly, the players must OPT-IN through the button on the promotion page.
Thirdly, daily prizes of free spins, cash prizes, and casino boost are revealed at 00.01 GMT each day, provided the player claims before that time. Note that all prices are in mBTC, including free spins. Also, all the casino boosts are sent instantly to the E-wallet.
Fourthly, no winning, be it cash prizes, casino boosts, or free spins, are subject to any wagering requirements. Every player gets 3tickets maximum per day. Additionally, each wagering automatically resets at midnight.
Furthermore, 10mBTC wagered by a player on any game guarantees one ticket to the raffle. What's more, ensure to claim your raffle by clicking on the floating Santa's house.
Failure to participate in the VIP football extravaganza due to unavoidable circumstances, Bitcasino will deposit a 75mBTC cash prize to the player account free of any wagering requirements.
Moreover, any fraudulent behavior is grounds for automatic disqualification by Bitcasino. Any manipulation coming from any player will result in the suspension of their account. Both actions are inclusive of the current and any future events.
Parting shot
While Bitcasino has complete power over the promotion at any time, you need to take control and gamble responsibly.
Sign up and be part of this fantastic Santa experience as you step into the New Year!
Get Up to
20% cashback Bonus
up to 10,000 USDT
Min $€20 Dep, 30x wagering
New customers only.
Min €/£/20. Deposit, 30x Wagering Requirements