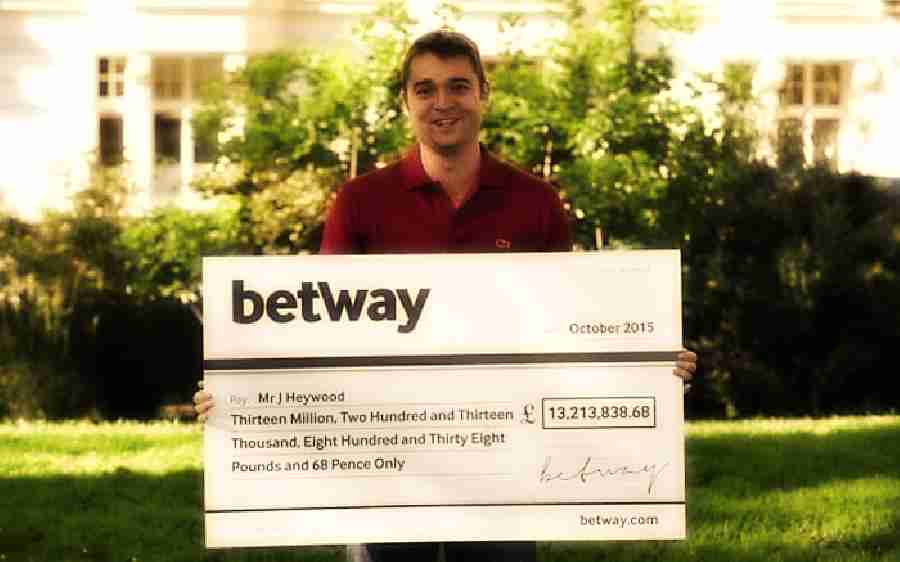 British Army soldier recently became the winner of Betway's biggest ever jackpot, bagging £13, 213, 838.68 after placing a stake of only 25p. Jon Heywood, 26, has been in military service for several years and even served in Afghanistan. Jon comes from Crew, Cheshire, and by his own words, has had quite a tough year. His grandfather died earlier in the year and his father requires a heart and lung transplant. For him, the win couldn't have come at a better time. The first thing he will do with the money, he says, is paid for his father's medical care and not just medical care but the best possible treatment. For him, family comes first and he says he is ready to give the money back if it would get his father healthy again.
By all means, the win was unfathomable seeing that Jon had staked just 25p on the spin that won him the jackpot. Even he doesn't believe it happened and says he still hasn't come to terms with the news. Surely, if there was a case of pure luck colluding with a positively aligned destiny, it would be that of Jon Heywood.
The Cheshire, England native was playing his favorite progressive slot, Mega Moolah, which has a history of paying big, way back in October when lady luck smiled at him. Shocked at the huge win, Jon chose to keep the news under wraps for three days as he tried to come to terms with it. In fact, a day after he won the jackpot, he reported working, as usual, something most people would never do considering the huge amount involved. On the jackpot, Mega Moolah is Betway's primary progressive slot game and has gained popularity in the recent past due to its heavy payouts. It is divided into four categories with each of them having its own winners. There is the Mini Jackpot, Minor Jackpot, Major Jackpot, and the Mega jackpot. It was the Mega jackpot, nicknamed the "Millionaire Maker" that Jon Heywood won.
The slot has broken record after record in terms of prize money. Some time back, it became one of the first online jackpots to pay more than £7million in prize money when a Canadian player won the £7.5 million prize money. Since then, the jackpot has growing bigger, hitting £10 million and going higher.
Mega Moolah is available in all Betway casino and is playable on both desktop and mobile devices. Jon's unbelievable win becomes the biggest in online jackpot history thanks in part to the pound-euro exchange rate. At the time of the win, the Euro was being exchanged for 1.3531 Pounds which translates to a whopping €17,879,645.12, some €17,000 more than the record-setting prize of €17,861,813 won in Finland back in 2013. The Mega Moolah jackpot thus broke a record that had been in place for 3 years and nobody could be a better winner than an army officer.
Alan Alger, Betway's spokesman congratulated Jon on his win and added that the company was happy for him and hope that his family will benefit from the win. Jon seems to agree with him here and promises to take his extended family on a cruise tour of the Mediterranean. The ardent Formula 1 fan also intends to spend a part of the £13 million windfalls on a yellow Bentley Continental GT which considers his dream car. The 26-year-old soldier says apart from the Bentley, which will replace his current old Fiat Punto, he hasn't yet figured out what exactly he wants to do with the money. And you can't fault him for that. Most of the people who play casino jackpot have big hopes of winning but are at the same time aware that it's easier said, and fantasized about than done.
After the 26-year-old Crews win, the jackpot resets back to the minimum £1 million and awaits the next winner. For now, congratulations are in order for officer Jon Heywood.
Where to Play Mega Moolah?
You can play at Betway or follow this link for more casinos offering the Mega Moolah game.
Get Up to
100% bonus
Opt-in, deposit €/$/£20
Min $€20 Dep, 30x wagering
New customers only.
Register with Betway and receive 100% up to 1 BTC + 10 free spins!