CartaSi Deposit Casinos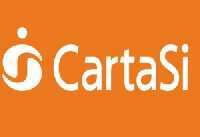 CartaSi witch is based in Italy, is an internet-based credit card company that provides easy and quick transactions to residents of Italy. This card system allows Italian residents to obtain prepaid as well as regular credit cards which are used for making various purchases on the internet. The company has also focused on the online gaming sector to provide players with a convenient solution for making deposits. Established in 1985, it has become a reliable payment option that online casino players can use this deposit method to transfer funds.
The service offers users a hassle-free means to fund iGaming accounts without the need of providing personal bank account information. CartaSi is accepted at a wide range of online casinos and will most often work at practically all online casinos. Players interested in using this banking method can complete the application process on the internet so long as they meet the requirements which are; be a resident of Italy and have a bank account at any CartaSi-affiliated bank.
The number of online casinos that accept CartaSi grows with each day and most casinos also offer a bonus to players who choose this method to fund their accounts. All users are charged on the 15th of each calendar month but players who use their CartaSi credit stand to benefit from 45 days of interest-free credit. Additionally, players who prefer an even more secure approach may want to opt for a CartaSi pre-paid card in order to set their own spending limits.
How To Deposit With CartaSi
When making a transfer using CartaSi, the fee may vary from 4% to 6% as it all depends on where the player chooses to use it. To fill an application request online, the user will need to provide identification information plus information regarding the bank account the user wants to link to the card. The CartaSi prepaid card allows users to set spending limits and won't require constant linking to the user's bank account. The CartaSi card is designed to be as simple to use as possible and to make a deposit, players have to follow the steps outlined below;
User logs into the casino of their choice
From the list of choices in the cashier tab, click on "Credit Card" or its equivalent
Enter the information need as shown on the CartaSi card
Choose the amount to deposit and then the payment will be processed
The depositing process takes a few seconds and once the player has completed the steps above, funds should be available immediately in their account. Moreover, CartaSi can be used in any part of the world because it is also connected to Visa, Master Card, and the EuroCard.
Advantages Of Using CartaSi
Just like any other credit card system, the CartaSi card is quite convenient and once a user has it, all they need to do is to simply log in to an online casino and deposit the needed funds. There is no requirement to register with the 3rd party website or even load any kind of virtual wallet and this serves to save time. Further, this method is more secure than the conventional credit card. The CartaSi prepaid card might be certainly more secure because it does not allow overdrafts, but the CartaSi credit card is fairly safe too. Users are also able to keep this card away from their primary accounts since they are allowed to choose the bank account to link it to, and this greatly reduces any risks of identity theft. More advantages of using the CartaSi banking solution are;
The system employs SSL encryption as well as internet security technology
Most gambling sites advance special bonuses to players who deposit using CartaSi
Online transactions are instant
CartaSi offers multi-currency support
There are no hidden fees and the system's features are player-friendly
Disadvantages Of Using CartaSi
CartaSi is secure but not completely so since users will still need to send their credit card information over the internet every time they are making a deposit. There's a risk that such information could leak out. This may not be something to worry about considering most casinos employ both enterprise-level firewalls and SSL encryption. The application process often takes some time since users have to wait for several days before the company has verified their identity so as to send the card after sign up.
Click to visit CartaSi official website