Diners Club Deposit Casinos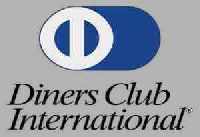 Diners Club Card is a famous name and is touted as the world's first credit card. It was first used back in the year 1949 on the 8th of February. The person using it was Frank McNamara along with Ralph Schneider and Matty Simmon. The place where the card was used was Major's, Cabin Grill. Originally, the intent of having the Diners Club Card was to have an alternative payment method, apart from cash. The story goes something like this – Frank McNamara had dined at a restaurant, and when it was time to pay, he realized that he was not carrying enough cash with him. This is what motivated him to find the Diners Club Card, which was at first used as a charge card, in place of a credit card.
The Diners Club Card was not meant to be an all-around credit card. This card was created for a particular niche, namely the travel and entertainment segment, known as T&E. If your lifestyle comprises of a lot of traveling then this Card is fit for you. American Express and Carte Blanche are some notable competitors of this card. Diners Club International was taken over by Citibank in the year 1981. The Diners Club trademark belongs to them. Still, you can still find numerous independently owned Diners Club International franchisees all around.
We have enlisted the Diners Club online casinos here that will take this deposit method, there are over 45 Diners Club casinos to choose from.
Depositing with Diners Club
The Diners Club Card is different from a traditional credit card. This is because it mainly functions as a charge card. Getting this card is not so easy. The applicant must supply substantial proof of income, and a number of other details. Once you have an approved application, you can start using the card. Since the Diners Club card is treated as a credit card, it also sets a credit limit on the cardholder. The good news is, you can set the credit limit as per your convenience as most banks tend to allow it.
Just like a normal credit card, the cardholder will have to enter the card number, the cardholder name, expiry date, and security code, in order to use it to make payments. Once this is done, an agreement is formed between the Diners Club and the cardholder. It would now be the cardholder's responsibility to repay the amount of the purchase made to Diners Club. You can know the amount at the end of every month, as a bill is sent to the cardholder, mentioning the entire amount spent on the Diners Club card, along with any other applicable fees. There is no minimum amount to be paid here, like in credit cards. The cardholder has to pay the entire due amount to Diners Club.
Diners Pros / Cons
Diners Club Card provides the freedom from having to carry loads of cash each time you go out. But, there is one disadvantage. It is a charge card and hence charges high transaction fees both from the cardholder and the merchant dealt with. This is why many casinos or other merchants might not be willing to accept payment via your Diners Club Card. In spite of this, there are over 8 million outlets online and offline as well as online casinos where Diners Club card is accepted. The fact that gives access to exclusive clubs and restaurants and gives rewards to cardholders makes it all the more attractive.
Click to visit Diners Club International official website