SafetyPay Deposit Casinos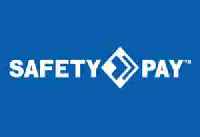 SafetyPay is an online banking solution that lets customers transfer funds directly from their bank accounts in whatever currency is the most useful for them. It was launched in 2007 and services those located in Latin America, the United States, Europe, and Canada. However, it does advertise that it is a global payment solution, so businesses from around the world can use this payment method as long as its customers are within one of SafetyPay's supported countries. It supports the languages of English, Spanish, and German. It does not use a credit card but does require that the user have a bank account in one of its supporting countries. Transaction times are instant.
SafetyPay advertises that it is a safe and easy payment method where customers can be confident that their payment information is secure and confidential. It is also very easy to sign up and get started. Because the payments go directly through SafetyPay, the online casino where it is used will not see any of the player's personal payment information. It is a very specific method of payment, so the online casino must list SafetyPay as a payment option for it to be a valid form of payment there. It is not like some payment methods where it can be used as if it were a credit card.
We have enlisted all SafetyPay online casinos here that will take this deposit method, there are over 10 SafetyPay casinos to choose from.
Depositing with SafetyPay
The player only has to register with SafetyPay and enter their bank account information to get started. However, players can even make payments without creating an account with SafetyPay. Simply select the payment option when it is available at the deposit page at your online casino, and you will be redirected to your online bank. Enter the sign-in credentials for your online bank and authorize the amount that you'd like to transfer to your online casino account. Then, as soon as the transaction is confirmed, the funds will be available in your online casino account. The transfer process is virtually instant, so players do not have to wait long to continue playing their favorite online casino games.
There are only a limited number of participating banks that SafetyPay will service within the countries that it supports. Players must be sure that their bank is supported by SafetyPay before attempting to use this method, and they must already have online banking set up with their bank. SafetyPay provides a list of supported banks on their website, in case you'd like to check for your specific bank. There are service fees for this payment option, and they will vary depending on the size of the transaction. For example, SafetyPay will charge $0.50 for each transaction that is under $15.00. The least amount you can transfer is $1, and the most are $5,000 in each transaction.
Advantages of SafetyPay
One of the greatest advantages of SafetyPay is that it is an instant transaction. It is also available in a wide area and can be used without setting up an account. Where the player wants to set up an account, the process is quick and painless. The users' information is shared with SafetyPay but is not shared with the online casino, so users can be confident that their information is safe and will not be shared with third parties. It also has very low fees, and it seems as if the fees can be completely avoided as long as the player makes a large enough transfer. Another great advantage is that players can make deposits in their local currency, and then those deposits can morph into the online casino's currency without any effort on the user's part.
Disadvantages of SafetyPay
Perhaps the greatest disadvantage to SafetyPay is that it is only available in a limited number of countries for a limited number of banks. However, it does appear that SafetyPay is attempting to extend its reach. Another disadvantage is that the user must connect their bank account to SafetyPay, and that is the only funding option available. Where the player does not have a bank account, online banking, or simply does not want to use their bank account, then this payment method is not an effective option for them.
Click to visit SafetyPay official website