Swiff  Deposit Casinos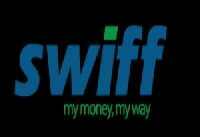 Players are always on the lookout for creative as well as discreet ways of topping up their casino accounts. There is a range of available and one of them is known as Swiff. Swiff is a mobile payment solution that works like a prepaid voucher, players have to purchase from retail outlets. The voucher allows players to fund their online casino accounts in such a way that the transaction is totally anonymous, as far as the outlet they buy is concerned.
The voucher is offered to users in different denominations, with a choice of $50, $100, $150, or $200 worth of money. Online players may buy the vouchers using credit/debit cards or cash from any supporting retail outlet. Swiff vouchers are simply be bought over the counter since users aren't required to share any personal information, meaning players are able to fund their gambling accounts without having to reveal any banking information to retailers. This goes a long way towards making sure users stay secure while enjoying the best of online wagering.
Headquartered in Quebec, Canada, this payment solution has steadily been accepted by a range of online casinos, and will soon be available outside Canada. Swiff prides itself as a method of depositing that utilizes bank-standard security, and all participating retailers are required to use 128-bit SSL encryption when processing transactions.
We have enlisted all Swiffonline casinos here that will take this deposit method, there are 4 Swiff casinos to choose from.
Depositing With Swiff
Swiff has contracted over 15,000 retail outlets where users may purchase the vouchers, which are always on display and it's just a simple matter of walking up to a cashier and buying it. This mobile solutions payment option works on mobile devices such as smartphones and tablets. Users have to download the software from Google Play or the App Store or, then sign up for an account that only takes a few minutes. After installing the software, all a user has to do is let the retailer know the amount to be loaded into the voucher. The run-down of Swiff when depositing is as below;
Purchase a Swiff voucher from a participating retailer and load it with funds
At the Casino's cashier page, select "Swiff" from the available options
Still at the cashier page, enter the 16-digit PIN, 3-digit CVV code plus the expiry date
Decide what amount to deposit from and charge it to the voucher
Confirm the amount and the payment appears immediately on the casino credit from which costs of play will be deducted
From there, a player is free to play for as long as the funds in the voucher will last as the voucher functions very much like any credit card. Players can look up the complete list of Swiff retailers and all the locations they are to be found in at the payment operator's website.
Advantages Of Using Swiff
Many mobile casino gamers prefer being anonymous on the web particularly when it comes to how they fund their casino accounts. Swiff is a superb option for players who don't want to use a debit/credit or E-Wallet when making deposits at online gaming portals. This is an extremely easy-to-use method and quite beneficial to users that can take advantage of the service. The basic features of this payment portal will offer users;
Anyone with a phone is eligible to use the mobile platform solution
Players do not necessarily need to have debit/credit cards that are tied to bank accounts since cash purchases are allowed
It is a very safe and secure payment method in that users need not worry about sharing sensitive personal details online. This also works to eliminate any chances of fraud on the internet
The vouchers are available from over 15,000 retailers
Players may purchase the vouchers in several different denominations
Disadvantages Of Using Swiff
The one main disadvantage of using Swiff vouchers is that they are currently only available in Canada, and as such, it's mostly targeted at Canadian players, potentially locking out customers from other countries. Moreover, though the vouchers are offered in several denominations, there's a small fee of about 3% to 6% charged on each voucher. Another downside is that there aren't a lot of mobile casinos offering this payment method as an option when funding player accounts. Players can make any withdrawals from their accounts using Swiff either. Though availability may be expanded soon, Swiff is not an ideal payment option so players will be better off choosing another method to make deposits.
Click to visit Swiff official website