TrustPay Deposit Casinos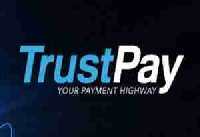 TrustPay provides a real-time payment method provided by banks based in Slovakia. It is available at select few online casinos. Players can either set up a TrustPay account, which functions as an e-wallet, or they can make an instant transfer using their particular bank account, credit card, or debit card. TrustPay also issues prepaid cards as well, which can be used just like a debit card at online casinos. TrustPay is regulated by the National Bank of Slovakia, and they also provide TrustPay's license. Although it was initially only available in Euros, it now supports 10 different currencies. It is now used in 16 countries by over 100 million people. It is supported by at least 60 banks and financial institutions as well.
TrustPay is only available to those living in the countries that it supports. Their website is offered in several languages, including Czech, Hungarian, Slovakian, English, and Slovenian. It is generally popular in Central and Eastern European countries. Most of the Baltic and Balkan countries use TrustPay. TrustPay allows online players to remain anonymous as to the online casino, but they may need to share their financial information with TrustPay to make a payment, depending on the payment method chosen. This instant play option is a great resource for the countries that it supports, and there is no need to even make a TrustPay account for many transactions.
We have enlisted all TrustPay online casinos here that will take this deposit method, there are over 90 TrustPay casinos to choose from.
Depositing with Trustpay
Using TrustPay to deposit at an online casino will vary depending on the payment method that the player wishes to use. TrustPay offers four payment options: Visa or MasterCard, wire transfer through a personal bank account, a Paysafecard, or their personal TrustPay account. Some online casinos will not accept all forms of TrustPay payments, but if they accept TrustPay at all, one of the four options will be available.
If the player wants to use TrustPay with their debit or credit card, then the player simply selects that option from the list of TrustPay options and enters their card data. If the player wants to use a banking transfer, then the online casino will either redirect the player to their TrustPay account or the player will be provided with a list of supported banks. The player can then choose their particular bank and it will connect them with their online banking site to input their personal information that way. The player could also choose to maintain an e-wallet with TrustPay and make payments directly from their e-wallet.
The final way to make a payment is with a TrustPay prepaid card, which they call a Paysafecard. The player just inputs the 16-digit code on the card to make a deposit. These cards are only available in about 35 countries and they generally must be purchased in an actual store where prepaid cards are sold.
Advantages of TrustPay
Perhaps the most beneficial feature of TrustPay is that they have so many depositing options. Players can use this system with or without a TrustPay account and can choose to include their bank information on the account, or not. TrustPay has an option that will fit virtually any need. It even offers a prepaid card option so those who do not have a bank account or credit or debit card can still use its services. The payments are also virtually instant, so that helps with avoiding waiting for payments to continue playing at the user's favorite online casinos. There are also no fees associated with this service. It seems to be widely accepted by online casinos that cater to the market that it also serves—that is, online casinos that accept players from the countries that it services.
Disadvantages of TrustPay
The biggest disadvantage is that this system is only available in a few countries. There are limited banks and limited places where players can obtain prepaid cards. Credit cards used must have been issued by one of the participating banks or the player must have an account at one of the participating banks. TrustPay continues to expand, however, so their reach will likely increase in years to come. Players are also unable to make withdrawals using TrustPay, even if they have a TrustPay account.
Click to visit Trustpay official website