UseMyFunds Casinos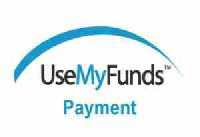 The fact that players have a choice of so many high-quality online casinos will always be of huge benefit to players but they still need to find methods of making deposits that suit their preferences. Although not every online casino offers acceptable deposit options to players, the range employed by the UseMyFunds option will also help a host of casino players towards funding their accounts with real money.
Formerly known as UseMyBank, the rebranded UseMyFunds is an online payment processing service that serves to allow online users to directly use their bank accounts but without worrying over their privacy being compromised. For casino players, this deposit method offers them a system that is fast, secure, convenient, and one that is available to account holders from several banks across 11 different countries.
In order to fund online casino accounts using UseMyFunds, users must ensure that they hold an account with one of the participating banks. At present, some of the largest banks in the UK, Switzerland, Sweden, Poland, the Netherlands, Mexico, Germany, Canada, Belgium, Austria, and Australia work with UseMyFunds to process online gaming transactions. Players can see the participating banks' list on the UseMyFunds website by clicking the "Current Bank & Country List" tab.
Here you can find all UseMyFunds online casinos that will take this deposit method, There are over 18 UseMyFunds casinos to choose from.
How To Deposit With UseMyFunds
This method offers users the ability to process safe and secure transactions with a wide array of merchants and companies. For casino players, the Use My Bank option will help them to find the right deposit method as well as the right online casino for them. Players who are seeking to make the most out of their gambling pursuits are bound to greatly benefit from using this service. And for those still weighing the different deposit options available, UseMyFunds provides an excellent choice.
Unlike many online banking services, UseMyFunds does not require users to have accounts in order to make deposits, except in very special circumstances. If the user's bank is listed on their web portal, then he/she is able to instantly use the service. For a more detailed run-down of how to make a deposit with a UseMyFunds, the process is as follows;
Load the participating casino of choice and select "UseMyFunds" or "UseMyBank" in the cashier window
Enter the amount of money to deposit
Choose participating bank plus account information
Submit the payment and funds should be availed to play instantly
The banking information that a player submits is processed using SSL encryption on the UseMyFunds server. The user's bank will essentially take care of the actual transaction, and the entire depositing process is totally free.
Advantages Of Using UseMyFunds
UseMyFunds is currently among the very few payment options which allow online players to use most of their services without even having to open an account. This kind of level of convenience is to be hardly found with any other options apart from the direct purchase of a credit card. And because players' banking data is kept safe and secure when using this payment method, users are afforded the added benefit of knowing their personal information will not be compromised. Other advantages of using UseMyFunds when making deposits are;
All deposits made to UseMyFunds are processed at absolutely no charge
UseMyFunds has a widespread reach making this payment method both safe and trusted
The UseMyFunds method only facilitates the deposit transaction and the user's bank does most of the processing
Players who already bank online don't need additional training on how to fund their casino accounts
Unlike 3rdparty payment options which require users to set up separate accounts and share their financial information to the online system, UseMyFunds won't make any such demands
Disadvantages Of Using UseMyFunds
Even though the level of convenience that is offered when using UseMyFunds to make deposits is essentially unbeatable, it's not nearly as straightforward when using it to make withdrawals. For one, the verification process is a whole lot more involving than with most online payment processors. Additionally, this method is only available for players who are residents in Canada and they must hold an account with an eligible bank. The vast majority of UseMyFunds subscribers will, therefore, have to look for another method in order to get their funds out of online casino accounts.
Click to visit UseMyFunds official website