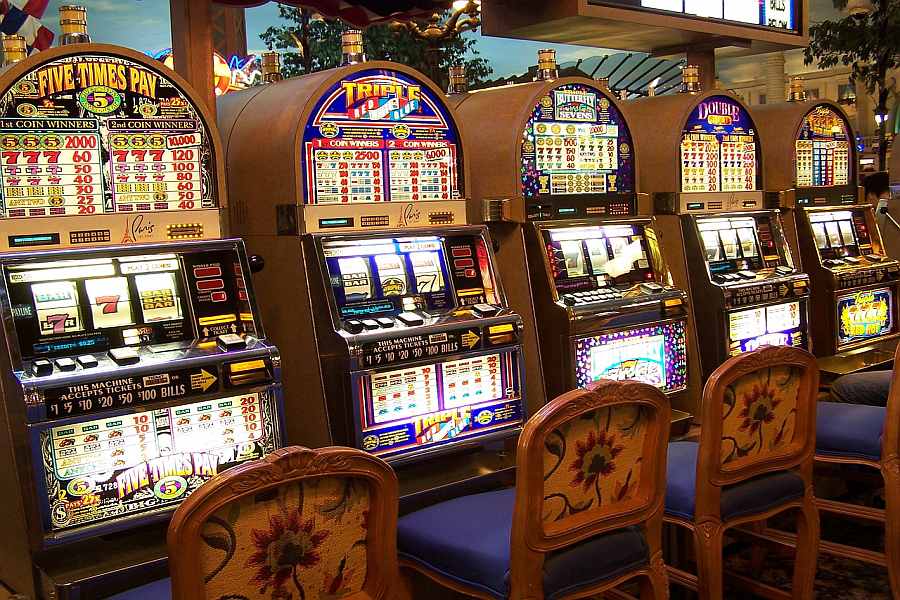 Is it possible to increase your chances of winning a slot game by playing with max credits?
If you're new to the whole slot machine gaming arena, then this article is for you. Casino slot machines are fun but when it comes to gameplay, things usually get a bit confusing. This is especially evident with the various pay lines and amounts that one can bet per single spin.
Imagine you went to a casino with a five-dollar bankroll and you probably chose to play the Copper Dropper slot machine. Your first reaction would be to bet one single penny per spin. After two hours you exhaust your bankroll and realize you've wasted a whole two hours with just a few winning payouts. Your biggest payout would probably be twenty cents.
Anyone who understands how slot machines work knows that you always have to play a maximum number of credits or coins. If you can't afford to play with maximum coins, you can try and drop the denomination you're playing in. For instance, if you can't handle 5 credits on a dollar machine then you can opt for 5 credits on the 50 cents machine. This advice holds true for all slots.
These days, numerous casinos have penny machines. You can bet with penny, nickel, quarter or dollar. This gives all players the opportunity of choosing a machine that fits within their budget. Novice players can stick average play which is the penny slot machine.
Why Bet Max?
It is important to first define what bet max is, it simply means the maximum amount that one can bet on a spin. It is always advisable to Bet Max because there are numerous games in which the Jackpot or the progressive Jackpot is unlocked through the maximum bet. If you are not much of a risk-taker, then you should bet max with a slot machine that offers you the possibility of getting free spins and bonus rounds. Again, you should bet max if your sole aim is hitting a progressive jackpot.
In addition, by not betting max coins, players get to lower their payback percentage. There are a number of slots that have a low set payback percentage-the only way to get a significant win is if you bet max. A good example would be one of the largest progressive slot machines- Megabucks. If you decide to play Megabucks, you shouldn't be caught playing anything other than max credits. The games already feature a low payback which ranges between 85% to 88%. Not qualifying for the jackpot means that you get to receive a very low payback. When you're dealing with games like Megabucks, never attempt to play without max credits.
Another game that can only be won with max bets is the Wizard of OZ. The game features a big progressive which means you can only win by playing on max bet. The maximum credit usually varies from $3 or $4 per spin.
Max Bet and Bonus Promotions
In addition to just going for bet max, it is important to go for slot machines that offer bonus promotions like free spins and payout multipliers. When you combine Bet Max with bonus promotion the end result is a hot machine that spills out free spins, activates bonuses with nice wins that add up quickly.
Deciding Whether to Bet Max or Not
The first step of deciding whether to max bet or not is, choosing your slot machine carefully. Some machines pay out better than others. For instance, on some 3 reel games, it is possible to hit a line that with a winning opportunity of 1000 credits just from playing a single credit per line. If you play with the max credit the top payout rises to 10,000 credits.
The mentioned example clearly indicates why players need to choose their machine wisely plus why it is important to play max bet. It offers you the opportunity of getting a much higher win than you would have otherwise.
With some slot machines, it makes no difference whether you max bet or not. It doesn't matter how many credits you play per line, the payout is the same. So make sure you choose a machine that has multiple ways to pay.
How to Familiarize Yourself with Max Bet
As a gambler and player, you need to understand what you're playing. Sometimes players get carried away and put everything into the machine with the hope of winning a million-dollar jackpot. If something goes terribly wrong, you will never forgive yourself. That is why it is important to familiarize yourself with how specific games are played. The best way to do this is to click the "Game Info" button. This will open up a new screen that will provide you with guidelines of the different winning combinations and how much they actually pay. You will also get information on the maximum credits needed and the bonus rounds attached to them.
You can skip the whole "Game Info" process and simply contact customer support. They will provide you with the necessary information needed in playing the relevant slot machine. This will give a better idea of what to expect when playing.
Conclusion
Our last piece of advice when it comes to betting with maximum credits is- try and have fun. They say that good things happen to those who are having fun. Don't force things. Sometimes luck is attracted by positive energy which has to be created. Besides don't forget that slots are a source of entertainment, and it's for this purpose that you should have fun.