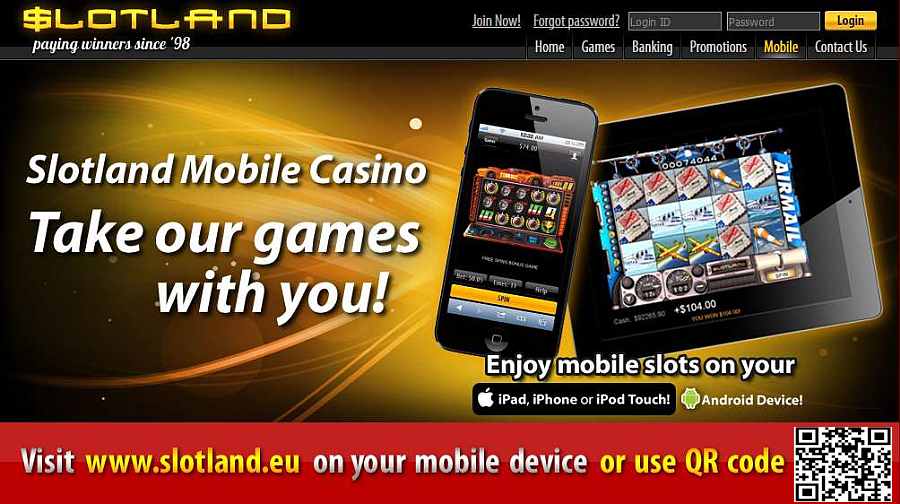 If you are one of those people who are into online slots but are faced with the inconvenience of not being able to carry your laptop everywhere, mobile slots may be the best option as you will be able to play them anywhere at any time. Just make sure your phone is fully charged and has a working internet connection. You can play mobile slots from any mobile device such as iPads, iPhones, Windows, Android, or tablets.
As mobile technology advances and the world becomes increasingly mobile, so to speak, the number of people using mobile devices has been on a steady rise. Some online casinos, not wanting to be left behind, have introduced mobile versions of the popular games on their sites. Slotland, a new online casino with great potential, has put itself a few steps ahead by offering only 100% original mobile slot games.
Popular Mobile slot games
The mobile slots collection at Slotland is not extensive as such but it is most satisfying. The casino currently has about 12 unique mobile slots games each giving the player an experience unlike any other. Fruit Mania, Tikal Treasure, Double Luck, and Turbo GT are some of the most played slot games on the platform. Well, what about these games that make them tick? Read on.
Fruit Mania
This is a 5-Reel, 15 pay line slot game with fruity colorful slots with bells and cherries reminiscent of the classic slots. It features the lucky number 7 in flaming red color, just like in the olden days. Fruit Mania is more like a modern slot game with underlying classic touches in the design such as multipliers. There are also some bonus rounds that are activated when select symbols appear on 3 or more reels. And there are even more bonuses in the game including level-up bonuses, bonus games, free spins, and multipliers up to 32X.
The game is also part of the Slotland Progressive jackpot which makes it even much better considering the amazing bonuses. You can play Fruit Mania on your computer or on almost every mobile device.
Double Luck
Double Luck has almost the same color themes and 5-Reels as Fruit Mania albeit with fewer pay lines, 9 to be exact. The mobile slot is much simpler in terms of both the gameplay and the bets. Basically, the minimum amount you can bet is $0.20 while the maximum amount is set at $4. As earlier said, this game features some amazingly colorful symbols such as wild roses, red mushrooms, tasty blueberries, cloverleaf not forgetting the lucky horseshoe. Just like Fruit Mania, Double Luck has a multiplier that can multiply your earnings up to 32 times. Be sure to watch out for the lucky scatter coin symbol.
Tikal Treasure
This is again a 5-Reel slot but with 25 pay lines, more than the other two which means more winning chances. The game is characterized by a mystical theme built around ancient Mayan legends complete with the Sun God, a classic Wheel of Fortune, and an ancient Mayan tribal mask. The game is also linked to the Slotland jackpot and has some incredible bonuses as well. The lucky wild symbol is the Quetzacoatl. The jackpot is won by attaining 5 Quetzacoatl symbols in a row.
Turbo GT
You guessed it right; Turbo GT is all about speed racing and stuff. The game has 5-Reels and 11paylines, not so much but pretty decent for a mobile slot. To add to the fast-paced theme and make it appear even more realistic, the game's user interface is quite similar to the dashboard of a race car. The slot includes some classic poker symbols like A, K, Q, and J in addition to a speed meter, racing helmet, a wheel, and a trophy to complete the motor racing theme. The game is also part of the Slotland progressive jackpot which runs into hundreds of thousands of dollars. The bonus rounds and free spins are activated when the wild and scatter symbols appear on the reel.
Join Slotland now to play these and more mobile slots on your phone!
Get up to
$1000 bonus
on your first ten deposit.
Min $€20 Dep, 25x wagering
New customers only.
Min €/£/20. Deposit, 25x Wagering Requirements