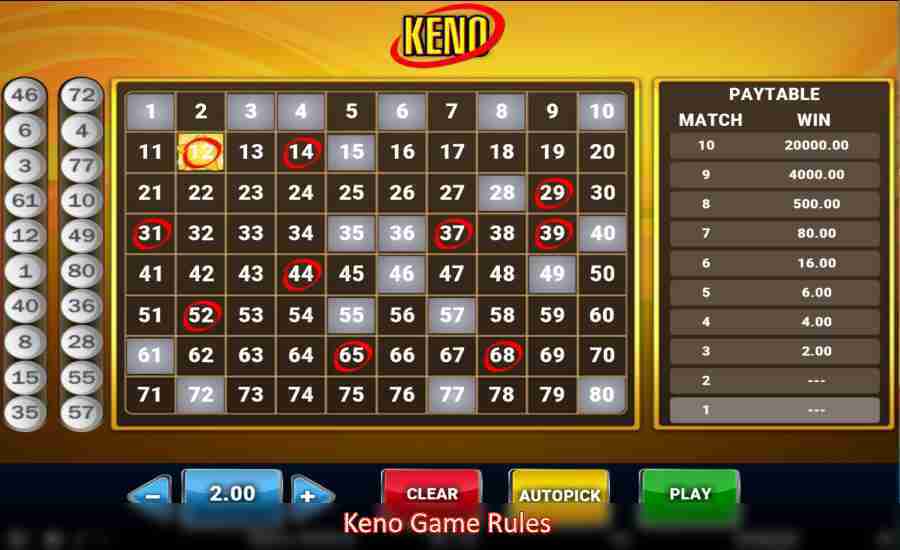 Before starting to play though it is recommended you pick up a booklet of the exact house keno rules and payouts at the counter.
To play it you have to pick up a Keno Sheet, if you are in a physical casino you will find those sheets everywhere even in the casinos restaurants, or you just pick them up at the Keno counter. Some casinos even have Keno runners. These are people walking around in the casino giving away Keno sheets.
All you have to do now is mark one to fifteen numbers, out of eighty available, on the ticket and give it back to the counter or the runner. The bets generally start at one dollar. After you make your bet, by giving the ticket back to the runner or the counter person, he or she will enter your numbers into a computer and give you a printed ticket. Make sure to double-check the numbers you filled out on the sheet with the one on the printed ticket because once the game started no more changes can be made.
At the beginning of the game eighty numbered balls are mixed in the Keno bowl and twenty of the balls are ejected at random from the bowl. Those numbers then appear on the Keno boards which are mostly located all over the casino and the restaurants. If enough of your selected numbers are drawn of the bowl you are a winner. To find out how many numbers you need to win and how much the payout is you should pick up a Keno Booklet as mentioned above. The more numbers you selected, the more numbers you will need to be a winner.
Also a very important part of the game is that if you are a winner you have to cash in your ticket before the next game starts. It is usually 10 to 15 minutes before the next game begins. You can also play more than one game on one ticket, if you do that, you don't have to cash your ticket right away. Wait until the last game your ticket is entered into ends and then collect the money. If you are playing one ticket for let's say ten games it would be foolish to cash your ticket right away because you would lose any chance of winning again in the ten rounds you paid for. Still, you have to collect after the last game you are entered ended and before the next game starts or you won't get a dime.
The only exception casinos make is if you are playing one ticket for 30 games or more. You can collect your money up to a year later, in most casinos, if you play this many games on one ticket. But before you take this information for granted browse through the Keno Booklet you picked up and make sure how the casino handles these kind of bets.
Some casinos also offer "Special Tickets" to add variety to the game. One version is called "Top and Bottom Keno". In this version you don't pick any numbers, instead you write a "T" on the top portion, and a "B" on the bottom of the ticket. In each portion there are twenty numbers. If thirteen or more numbers in either portion are drawn out of the bowl you win. This Keno variant may not be available in every casino so check your Kino booklet for more info