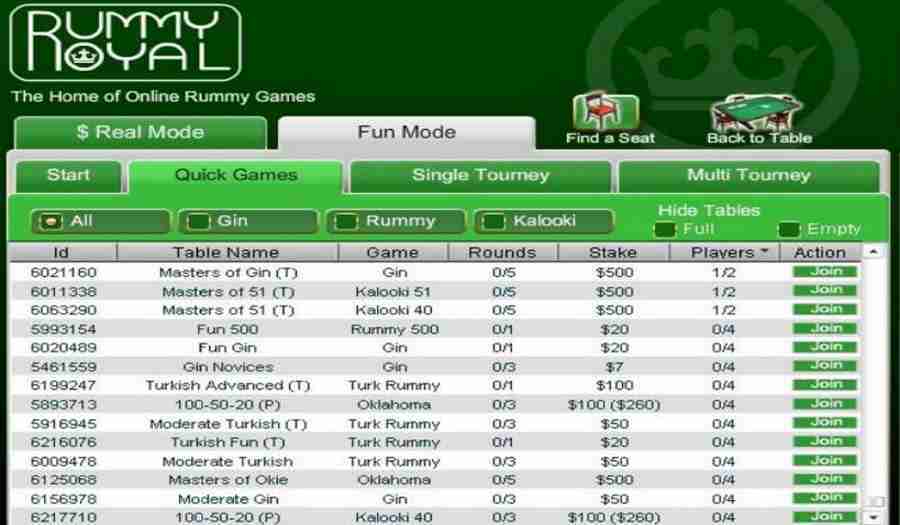 Rummy Royal, the Home of Online Rummy Games, is a dynamic online Rummy community featuring a suite of fun, exciting and skillfully challenging Rummy games. Rummy Royal offers the first ever multi-player online Rummy to a global community of Rummy lovers, beginning players, and online players searching for new and sophisticated gaming experiences on the Web.
Spirit & Innovation
RummyRoyals founders set out to enhance and improve the quality and variety of online Rummy by developing an innovative and advanced downloadable application with the latest technology.
RummyRoyal, owned and operated by R.M. Royal Media Ltd., has developed a total user-friendly interface and easy-to-follow online tutorials (for ?fun? or ?real? players) that make learning and playing Rummy games fun and easy for the entire family. Rummy Royals unique line-up of online games includes Traditional Rummy, Gin Rummy, Oklahoma Gin, Kalooki 51, and Kalooki 40 ? definitely something for everyone to enjoy!
Variety of Ways to Play:
Ring Games
Ring Games, the closest thing to playing a quick casual game of Rummy offline, are a simple way to enjoy Rummy games when you just need a quick fix for a one, two or three-round game. Players are also not able to be eliminated from a Ring Game like they are tournament play. Points are counted at the end of one, two, or three rounds of play and the winner is the player with the fewest points.
Single-Table Tournaments
Single-Table Tournaments are a face-paced way to enjoy tournament play as 2-4 players compete for a larger pool prize. Players who reach the maximum number of allowable penalty points after several rounds are eliminated, and the remaining players share the prize.
Multi-Table Tournaments
Multi-Table Tournaments are designed to enable a large number of players to compete for a large pool prize. These tournaments test a player?s ability to ?hang in there? until the exciting conclusion, exercising a level of grit, patience and strategy over a longer period of time compared with the shorter Ring Games & Single Tourneys.
Guaranteed? Really Means Guaranteed
RummyRoyal Guaranteed Tournaments are popular for good reason. In general, the number of people and their total stake amounts determine the pool prize. With Guaranteed tournaments, if the total stake amount does not add up to the ?Guaranteed? prize, RummyRoyal makes up the difference. The ?Guaranteed? prize is truly guaranteed; unless of course the total stake amount surpasses the pre-determined prize. In that case, the prize increases accordingly.
Generous Incentives & Cash Prizes
RummyRoyal rewards its community of players with weekly and monthly special promotions and events. With built-in and special bonuses for depositing players as well as instant and automatic free cash awards, RummyRoyal provides a host of incentives and prizes to its members. Players are also awarded for inviting friends to play and new depositing members are automatically awarded a 100% Welcome Bonus!
RummyRoyal?s Generosity Knows No Bounds: The Customer Experience
Rummy Royal offers the best customer service available and keeps in touch with its community through chat rooms and forums making a constant effort to enhance and improve the customer experience at all times. Rummy Royal?s dedicated staff of experienced industry professionals knows that it?s the players who keep the excitement and energy flowing in the game rooms and keeping an eye and ear open for player feedback and suggestions.
Chance? Not a chance.
Rummy, the 3rd most popular game in the world, is a game of skill and strategy where players are able to lean on chance and probability to win. Rummy players must be calculated and strategical at every move constantly observing the opponent?s activity in order to determine the best course of action at every step of the way. The element of skill not only keeps Rummy Royal games exciting and challenging, but the game?s mental stimulation keeps players coming back again and again.