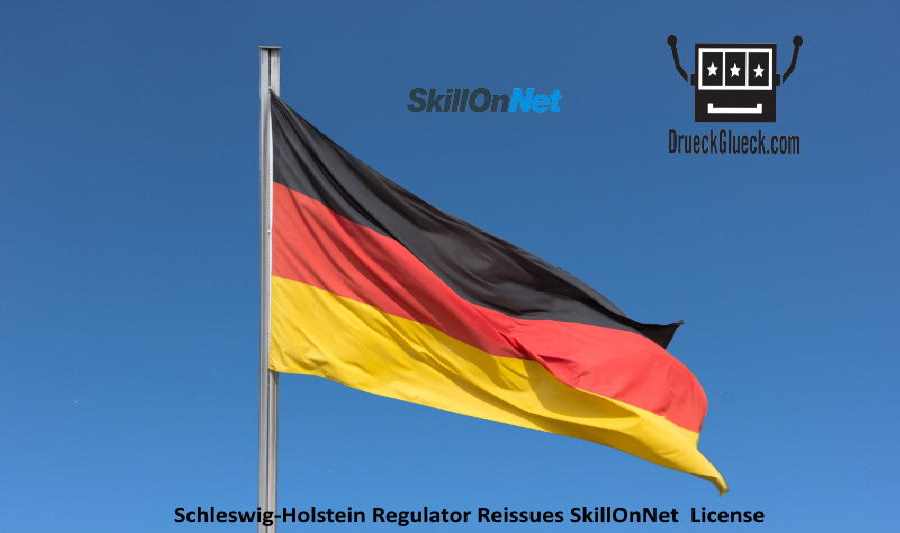 The German online casino license of the hugely popular DrückGlück casino brand has been renewed by Schleswig Holstein – the nation's online casino regulator
July 2019 – Schleswig Holstein, the regulator of online casinos in Germany has renewed the German license of SkillonNet. SkillonNet is the platform provider for most of the popular online casino brands in Europe. Now, SkillonNet can keep operating its DrückGlück brand in Germany.
This is good news for all those involved in the online casino business in Germany – the online casino players, DrückGlück and SkillonNet. This license renewal brings to a close rumors that online casino players in Germany may be forbidden from playing online casino using these brands. Through the Schleswig Holstein license renewal, SkillonNet can keep operating in the country till 2021.
DrückGlück's casino license renewal coincides with the extension of their sponsorship deal with Holstein Kiel (the Bundesliga 2 football club) – a sponsorship deal that has been beneficial to both the brand and the football club. Part of the sponsorship deal involves a center circle banner, LED boards around the stadium and a press wall logo placement.
Thus, SkillonNet plans to spend lots of cash on TV advertising campaigns which will run across popular TV channels such as Sport1, Kabell, VOX, SATI, RTL and Pro7.
According to Michael Golembo from SkillonNet:
"It's thrilling that our online casino license in Germany has been renewed. This gives online casino players in Germany the opportunity to get the best online casino experience through DrückGlück."
"There would be two major marketing campaigns to further improve the players' experience – an extension to our current partnership with Holstein Keil football club and major TV advertising campaigns across the big channels."
By offering more than 3000 games, DrückGlück has taken a bold step to become the leader of the online casino market in Germany. The renewal of our online casino license in Germany is proof that DrückGlück can meet the highest regulatory standards of online casino from any part of the world.
Tim Jost, the Head of Marketing at Holstein Kiel Says

"Having reviewed the details of our previous business partnership, DrückGlück and KSV Holstein-Kiel have agreed on a long-term continuation and expansion of their partnership. With DrückGlück as a partner, the Holstein Kiel brand can be promoted to other public spaces. Also, fans and partners of KSV Holstein can identify with our corporate social responsibilities and implement them. Thus, our partner can validate the position of the Holstein Kiel brand as a veritable brand while executing endearing campaigns for our fans and sponsors. As a partner with DrückGlück, the coming years for the Holstein Kiel brand look very promising."
"With their continued commitment to transparency, safety, security and other benefits to online casino players in Germany, DrückGlück remains a brand that can be trusted. If you are unaware but are interested in learning more about the games offered by DrückGlück and the DrückGlück brand in general, you can check out their website at"  https://www.drueckglueck.com/
About DrückGlück
DrueckGlueck Casino is the colorful and fun German-based online casino developed to serve the growing market of Germany's fun-seeking casino game players. With an emphasis on … read more