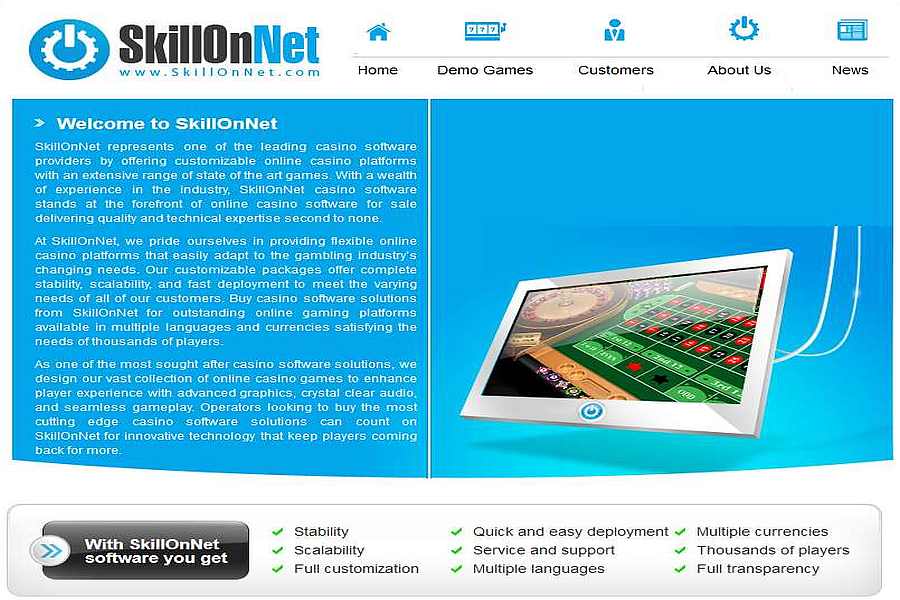 Online casino players based in Europe have a reason to celebrate as they can now look forward to playing on the casinos powered by SkillOnNet. The quintessential German state of Schleswig-Holstein has agreed to issue a license to this creator of online casino gaming software. This is certainly splendid news since the company begun its operational activities from as early as the first day of January, 2013. Even more wonderful with this recent development is the fact that this license will remain valid for a solid five years.
The SkillOnNet company licensees should be proud of the many accomplishments they have achieved within the years. Responsible for creating a raft of hugely successful casino properties like PlayMillion Casino, Casino RedKings, Mega Casino and EUcasino, the company is also behind a number of recently launched casino properties such as Queen Vegas Casino and Simba Casino. In addition, the license also covers a number of other casino brands operated by their sister affiliate, EGO, which brings with it Redkings Poker brand as well as the sports betting brand known as BetRedKings.
The company was also proud to recently announce that their Danish license which had been issued on a temporary basis had been extended for a full 5 years.
This new license certainly brings with it exciting new possibilities for the future of this software development concern. Fully focused on expanding its presence within the regulated gambling markets, the company is absolutely happy with the developments regarding online gambling legislation that are ongoing all across Europe. Another upshot of this Schleswig-Holstein license is that it is expected to encourage various other gaming jurisdictions to also issue more gaming licenses as this latest move will surely result in development of more exciting games and better market penetration structures.
With this new license, the SkillsOnNet brand is guaranteed better advertising and on a wide array of media models, including television and this will serve to make it more popular all across the European continent. And with Denmark also relaxing her regulatory measures regarding online casinos, there's much to the delight in as the likes of EU Casino will now offer its exciting servings to the thousands of SkillOnNet players in Europe. This is moreover in line with the gambling scene as more and more countries are now adapting the required steps in order to create a licensed, regulated and safe eGaming environment. This means online players can now legally and safely enjoy their favorite online casino games titles with no hassles.
As SkillOnNet Group Marketing Director, Michael Golembo has clarified, "We have been approached by a number of Companies in connection with Schleswig-Holstein license and have already begun discussions with a major strategic partner with a view to create a big Joint Venture that will dedicate itself to the German market as a whole. We believe with our expertise and the right Partner, SkillOnNet will become one of the major players in the regulated German Market".
About SkillOnNet
SkillOnNet is an online casino software development and marketing company which was founded in 2005. The company thus boats of a lot of industry experience in the gaming market, and their gaming software is quite remarkable. SkillOnNet is renowned for advancing technical and quality expertise to its vast pool of online players which make it unmatched by any of its web-based casino competitors. The company employs a serving of absolutely progressive and high-ranking software, in an interactive setup which makes every facet be easily customized for the online player. You only need to have a look at their 3D slots to realize how true that statement is.