Aristocrat Casinos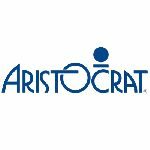 Aristocrat sets itself apart from other online casino software providers because it has over 60 years of experience and its staff is placed across the world. They have over 2,200 global staff members. They are known for exceptional games and gaming software in over 200 jurisdictions across the globe. Aristocrat states their purpose as: "to create the world's greatest gaming experience, every day." Aristocrat is based in Australia, but it definitely has a worldwide presence. Aristocrat is well known for its variety of slot gaming options.
Aristocrat actually developed its first land-based slot machine in 1963, and it continues to be a leader in game development and technological advancements. Aristocrat has been involved in the virtual gaming market since about 2011, and some of its land-based games have made it to the virtual arena. In fact, they have also developed interactive video terminal systems to provide online gaming content as well.
Mobile gaming is also available through Aristocrat, and the games can be played directly through a mobile browser, without having to download a separate gaming app. They are compatible with many types of mobile devices, including iPhones and Androids. Most of the mobile games that are available currently are slots, but there will likely be more mobile games available in the very near future as the platform increases in popularity.
About Aristocrat
When Aristocrat first came about in land-based casinos, it became a household name in the gambling community for its slot-based games. It has continued that emphasis even into the virtual gambling world. However, many of its games are only available in some countries. For example, one of the games that United States players can use is "Queen of the Nile." That game features a bonus round where players can win free spins and the jackpots are tripled. On the other hand, another game that is not available to United States gamblers is "Dolphin Treasure." The bonus round on that game could earn the player up to 150,000 in credits on a single win. It is unclear why one slot game would be allowed in the United States while others are not.
Another game, "ReelPower," is available only to Australian and Asian gamblers. The player purchases reels to make them active instead of playing by line. This unique format makes it popular, but it also makes it a bit more restrictive on who can play. Aristocrat has different game offerings depending on who the online casino is targeting.
Aristocrat is also well-known for its large progressive jackpots. These jackpots can get extremely big because the software is literally used worldwide. They also have multi-game and multi-site jackpot titles to help increase these jackpots.
Certified and Fair
Aristocrat places a lot of emphasis on integrity and respect for individual clients and players. They take an active approach to promoting responsible gaming because of their deep commitment to the online casino industry. In fact, they have even funded independent research to help develop better games that are less prone to policy violations and problem gaming and game users.
Because they are so experienced in the gambling market generally, Aristocrat has a lot of experience dealing with regulators and providing fair gameplay. In fact, it has its own in-house Compliance Program that is constantly monitoring games and changes in the law to be sure that they are in full compliance at all times. Their software has also received several certificates for authentic and responsible gaming. They have met some of the strictest legal protocols and random number generator requirements on the market. Players can be sure that they are playing in a fair and safe environment when using Aristocrat's gaming software and interface.
Aristocrat is also part of the Gaming Technologies Association of Australia, the Australian Gaming Council, and the American Gaming Association. If regulations or laws change, then Aristocrat will not be one of the first software companies to know about it, they may have even had input on the change based on their prominent role in the gambling community.
Click to visit Aristocrat official website