GameArt Casinos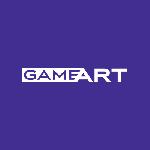 The GameArt casino software company is an independent iGaming developer whose major focus has been on developing unique and innovative products for land-based casino operators and online casinos. Founded in 2013, GameART is one of the newest players in the industry, and the company has recently released an array of slots games while also seeking to provide a flexible software platform for their clients. GameART specializes in cutting-edge slot games for online casinos in addition to land-based video lottery terminals.
The essence of this gaming outfit's state-of-the-art software platform is that it is easy to navigate as it allows players to enjoy stimulating game offers that feature high-quality sound and seamless graphics. The professional creators evidently had a realistic and immersive gaming experience in mind as GameART has developed software that creates such a realistic iGaming experience online players feel as if they are at a real, land-based casino.
The Games
GameART Casino is run by a highly experienced team of professionals who have worked for many years in both the online casino and the land-based casino markets. Based and regulated in Malta, with additional offices in Serbia, Slovenia, and the UK, the company has released around 23 slots titles thus far.
These games cover many of the most popular themes like their Treasure Reef game which employs a pirates theme, Fortune Panda with its Chinese wildlife theme, and of course, Gold of Ra which captures ancient Egypt. Every game title features state-of-the-art designs and graphics with various innovative bonus rounds that are set to attract more players to the iGaming portal.
Additionally, the company has in the not too distant past announced that some 75 new titles are set to be released during the year 2015.
There Relationships
GameART Gaming has released its own unique and customizable iGaming platform known as turbo. Designed to work on both mobile devices and personal computers, TurboART is set to provide casino owners and operators full tracking capability for player activity in order to give their customers the best service while maximizing player retention.
Since the company has as well recognized the rapidly growing importance of social gaming, the GameART casino software portal allows players from around the world to not only participate but also play for real money on social media networks so long as the local regulations allow. Gaming licenses are increasingly being issued by a growing number of countries globally which means more casinos are adopting GameART slots so their collection can be available for more and more online players.
Casino Bonus
The GameART software portal operates a game management system that is set to provide online casino operators with extensive integration options that feature high-level player bonuses alongside providing CRM capabilities. Players can be assured of attractive promotions and offer handsome bonus payouts at any GameART casino affiliate.
Download or Instant Play
As a tech-savvy and proactive developer, GameART provides a casino platform that supports integration with download-based, web-based and mobile portals. Their unique casino platform, TurboART, provides full-fledged casino management and iGaming protocols which are available on mobile devices, PC and Mac desktops, and tablets so all their gaming offers can be integrated easily with any platform since they're compatible with all operating systems.
Audited / Fair
The high quality of game designs provided by GameART casino is correspondingly cost-effective to develop thus costs are cut for online gamers to reap the associated benefits. The GameArt platform has complied with all software, integration, and technological engineering standards in order to enhance quality and ensure safety. The provision, maintenance plus design of their software and game titles are steered by professionals and thus online players may rest assured that they'll always enjoy a fair and safe iGaming experience.
Click to visit GameArt official website