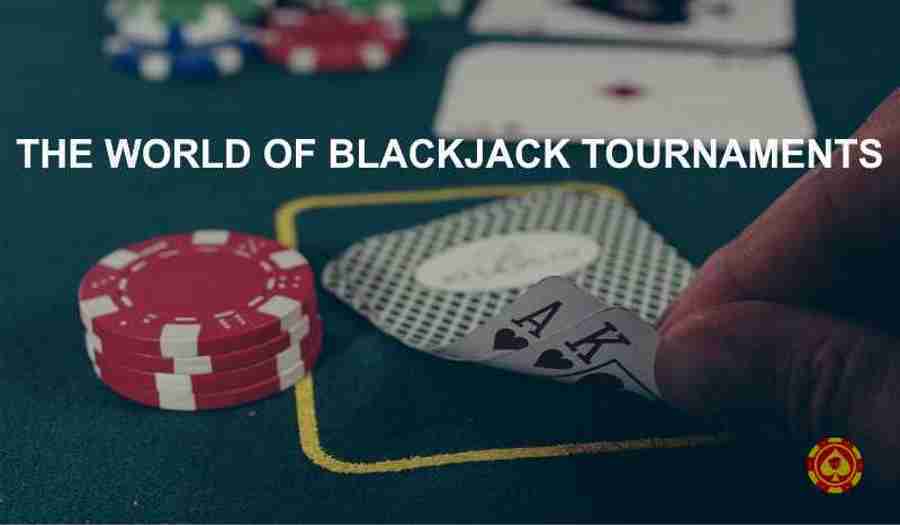 Blackjack tournaments are bound to enliven the game while adding new levels of excitement to the entire experience. Whether you're playing on the internet or in a land-based casino, such tournaments will certainly provide you with one of the best values in the gaming scene. Rather than pit your wits against a lone dealer, blackjack tournaments will afford you the chance to play against other players, and the smart player is assured of having a big edge when he or she learns how to play better than average. Tournaments have lately become quite a popular way of playing the game of blackjack, be it  live or online casinos.
How to Play Blackjack Tournaments
The blackjack tournament format is akin to the one used for when playing in Texas Hold'em poker tournaments, and it's comprised of several rounds of play over tables of 6 or more players, who have to compete against each other for each round of play. The game itself is played out; meaning only one or two players from each of the tables will make it to the next level.
With every round comprised of a pre-determined number of hands, all players have to start the round with the same number of chips. Players will then take turns on who is the starting player, and the player who is dealt cards first makes the first wager. Once a round ends, the player or players who hold the largest number of chips advances to the next round, with a typical round consisted of between 15 and 30 hands. There are some tournament types where you'll play using live-money chips while in the more common type; you'll use predefined chips that have no cash value.
During play, a button on the table indicates the player who is goes as "first base" for that particular hand instead of the croupier always dealing from the first seat. This button will then consecutively rotate around the table and onto the next player for every hand dealt and the significance here is the sequence and wagers of the playing keeps rotating with the button. However, this system of play means when you roll and bet on the game for a given hand, you are at a disadvantage.
Every tournament basically packs 5 to 20 rounds, and a standard format of the game could have two players per each table of six advancing to the next round. For the next round, this sequence is repeated, with one or two players per table moving on to the 3rd round, and on and on until the final round is complete.
Prize Money and Other Benefits
The typical prize money for a blackjack tournament is often 100% of the fees paid by players upon entry, meaning a tournament affords the casino and the players a level playing field. The casino has no advantage in the tournament. Here, you will have a great advantage if your game play is more dexterous than your inexperienced opponents' who lack any ideas regarding strategy. In some tournaments, you are assured of the prize money whether the game has enough entries or not. Of course, the casino is most likely promoting itself in such a scenario, and management chooses to do this through paying players from its own resources. This is quite a nifty marketing strategy actually, since the casino is able to attract a host of new players to its tables when the tournament rounds commence.
With the big tournaments that are run land-based casinos, there are special packages that usually accompany tournaments as incentives for players. Such incentives include free food and even discounted tariffs for accommodation. Should you choose to spend your vacation in the world's gambling capital of Las Vegas, you may want to make your booking around the time a blackjack tournament is happening. Additionally, you may schedule a trip to a casino destination at the same time that a tournament is ongoing as this will also save you money while affording you the chance to play for big bucks but with reduced risks.
Each tournament comes with its own distinct jackpot size;
Small tournaments whose typical entry fee could be as low as $10 command a jackpot prize amount of between $500 and $1000.
Big tournaments with a typical entry fee of between $300 and $500 and which will definitely fork out a proportionately larger jackpot amount.
Massive tournaments whose entry fees could hits as high as $1000 or even more. Here, the featured jackpot may be over a million dollars.
In most of these tournaments, the prize giveaways are usually spread across at least six winners for different levels.
Tournament Tips
Playing in blackjack tournaments is way tougher than if you were playing regular blackjack. Because you'll be competing against players who are usually very skilled, it's important that you have a strategy in order to stand up to the competition. The tips below will get you started on your quest to playing your best and perhaps walking away with the prize.
Know the Rules
Familiarize yourself with every rule pe rtaining to whichever blackjack variant that's being played in the tournament. Seek to know everything and not just know the basics. Know if the croupier stands or hits on soft 17. When you should split and when you should double down. Should you split your Aces once, or more times? Once you are familiar with all the rules, then you are in a better position to make the most out every situation that may arise.
Develop a Basic Master Strategy
You must be familiar with the basic blackjack strategy in order to play to your full potential. There are dozens of strategy charts on the internet and even more are to be found in books dealing with blackjack strategies. All these will help you to learn the best moves for any situation during the game. Gather the information and once educated, you will ably discern when to double down, hit, stand or split simply based on the croupier's up card plus your own hand. Considering most players will be familiar with the basic strategies of the game, a master basic strategy will have to become second nature if you want to better such players.
Manage Your Risk
Remember that in blackjack tournaments, you will be competing against other players at one table, or at multiple tables in big tournaments. Remember too that you cannot buy in should you run out of chips. As such, it is of utmost importance that you learn how to manage not only your money but your risk too. Basically, going all in and betting all your chips too early in the tournament is a bad idea. The fact is, you're assured of advancing onto the next round should you win and double your stack. But it's also likely you might lose everything meaning you'll be out of the tournament quite fast. Play conservatively through wagering minimum amounts early on, as this is a great way to ensure you advance. And once you have advanced to the final table, you can start upping your wagers in order to cash in as many chips as you possibly can.
The bottom line here is; be adequately prepared before you decide to sign up for blackjack tournament. The simple tips above will go a long way towards getting you ready to play at the best of your ability and to ensure you advance to the final table, and even beyond.