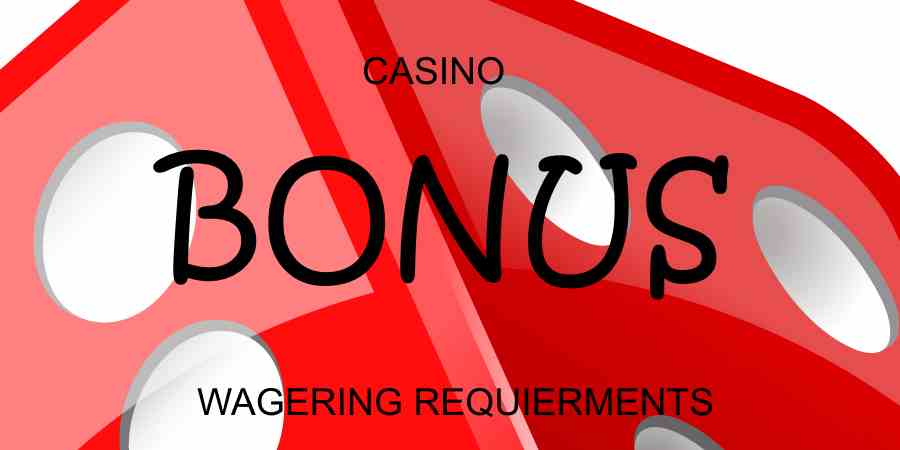 Understanding casino wagering requirements is essential for any player who wishes to make the most of their online gambling experience. Wagering requirements, also known as playthrough requirements, are terms and conditions set by casinos that dictate how many times a player must wager their bonus funds before being eligible to withdraw any winnings. These requirements are put in place to protect the casino from bonus abuse and to ensure fair gameplay.
Bonus Wagering Requirements
When players receive a bonus, whether it's a welcome bonus, a deposit match bonus, or free spins, it's important to understand the wagering requirements associated with it. These requirements are typically represented as a multiplier, such as 20x, 30x, or 40x, and indicate the number of times the bonus amount must be wagered.
To illustrate how wagering requirements work, let's consider an example. Suppose a player receives a $100 bonus with a 30x wagering requirement. This means that the player must wager $100 multiplied by 30, which equals $3,000, before they can withdraw any winnings associated with the bonus.
It's important to note that wagering requirements are usually applied to the bonus amount, not the deposit amount. In some cases, the requirements may be applied to the sum of the deposit and bonus. Therefore, it's crucial to read the terms and conditions carefully to understand how the wagering requirements are calculated.
Games Wagering Requirements
It's also worth mentioning that different casino games contribute differently towards meeting the wagering requirements. Generally, slot games contribute 100% towards the requirements, which means that every dollar wagered on slots counts in full towards the wagering requirement.
However, other games like table games, video poker, or live dealer games may contribute at a lower percentage or may not contribute at all. For instance, a casino might specify that table games contribute only 50% or 10% towards the wagering requirements. This means that for every dollar wagered on table games, only a fraction of it will count towards fulfilling the requirements.
Time Limit frame
Additionally, casinos often impose a time limit within which the wagering requirements must be met. This time frame can vary from a few days to several weeks or even months. If the requirements are not fulfilled within the specified time, the bonus funds and any associated winnings may be forfeited.
Withdrawing Funds
It's crucial for players to understand that attempting to withdraw funds before meeting the wagering requirements can result in the loss of the bonus and winnings. Therefore, it's essential to keep track of the wagering progress and only request withdrawals once the requirements have been met.
No Wagering Bonus Requirements
Some players may wonder if it's possible to bypass or avoid wagering requirements. While there are certain casinos that offer "no wagering" bonuses, where players can withdraw their winnings immediately, they are relatively rare. It's important to carefully read the terms and conditions of any bonus offer to determine if there are any wagering requirements attached.
Understanding and managing wagering requirements is key to maximizing the benefits of casino bonuses. Here are a few tips to keep in mind:
Read the terms and conditions: Always thoroughly read and understand the terms and conditions associated with a bonus offer, paying special attention to the wagering requirements and game contributions.
Choose games wisely: Opt for games that contribute fully or significantly towards the wagering requirements to meet them more efficiently. Slots often contribute 100%, making them a popular choice for fulfilling requirements.
Keep track of progress: Keep track of your wagering progress to ensure you meet the requirements within the specified time frame. Many online casinos provide a progress tracker or a bonus balance section that allows players to monitor their progress.
Set a budget: It's important to set a budget and stick to it. Wagering requirements can sometimes be high, so it's crucial to only bet what you can afford to loose.