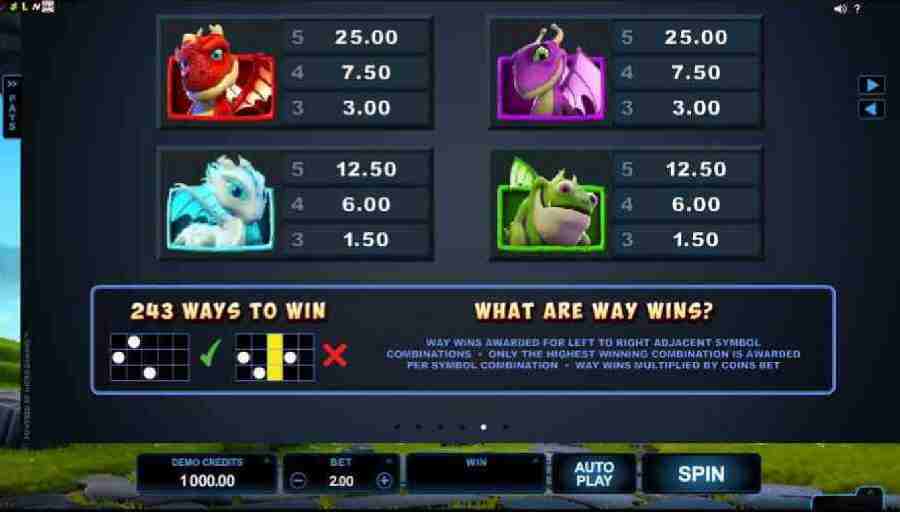 243 Ways Slots give you more and do away with the usual pay lines giving you 243 ways to win
How would you like to play slots with as many as 243 ways to win? Have you seen or played a 243-pay line slot yet?
Well, if you've somehow missed out, let us tell you in this article what makes these slots worth your while.
243-payline Slots Many Ways to Win
You already know that the more pay lines a slot has, the more winning opportunities you have. Basically, in this game, you have multiple single pay line slots in your control with just one spin.
You are not asked how many pay lines you want, all pay lines are activated and all are played with every spin. The thrill is that with so many possible winning combinations, big wins can happen virtually anywhere on the screen.
In traditional style slots, you hope for matching symbols to appear on each reel, next to each other; a single spin triggers a win. What's different in 243-pay line slots is that a single spin triggering a win can also trigger multiple wins.
For example, if five wheels each stop with three matching rows of symbols in view, you have the possibility of winning 243 ways. Even better, the symbols can be scattered at different heights on the reels and you still have a win. What a kick!
Additional winning features are Wild Symbols, Expanding Wild Symbols, and Scatter Symbols.
Superior Graphics /Animations
The highly advanced 243-pay line slot machines have state-of-the-art designs and equally creative graphics. In fact, they are thought of as some of the best gaming platform software.
Thanks to the creative symbols, a multitude of themes, engaging stories, and detailed animations, these slots are some of the most popular in the world of iGaming. Leaving you glued to the screen.
Just think of your favorite television shows and movie flicks for a second – chances are some of them have been turned into online slots with 243 ways to win.
The Game of Thrones slot, Jurassic Park slot, and Battlestar Galactica slot games certainly fit the description. Can you imagine how Dark Knight and Thunderstruck 2 easily fit in?
All 243-pay line slots are so advanced they feel like actual video games. Just think of the popular Immortal Romance slot and its Wild Desire feature and separate bonus features with each of the titular characters. Free Spins, multipliers, wilds, and fun galore!
Try Slots with 243 Ways to Win
Are you feeling ready to give 243-pay line slots ago, but you've no idea where to start? You know what they say – you can't go wrong with NetEnt or Microgaming. Or if they don't say that, they should.
In fact, the slots already mentioned are all Microgaming slots. Add NetEnt's Twin Spin slot or Hooks Hero Slot, and Fantasini's Master of Mystery slot, among others, and you've got a fine choice of 243 slots at hand.
Hooked on 243-payline Slots
The creative 243 gaming machines are the new frontier in gaming and exactly what players have waited for. Experienced or not, you will find that 243 slots are quickly grasped and understood. You'll appreciate what the 243 formats have brought to the five-reel slots.
There is enough evidence to prove the 243-pay line game's player appeal. There's the enjoyment of the bonus rounds, stacked wilds, and exciting shifting reels. No constraints of pay lines and the possibility of big, multiple wins.
Fascinating new games from the leading game designers, mind-blowing graphics and sound effects are all fun features that will get you hooked on 243-pay line slots