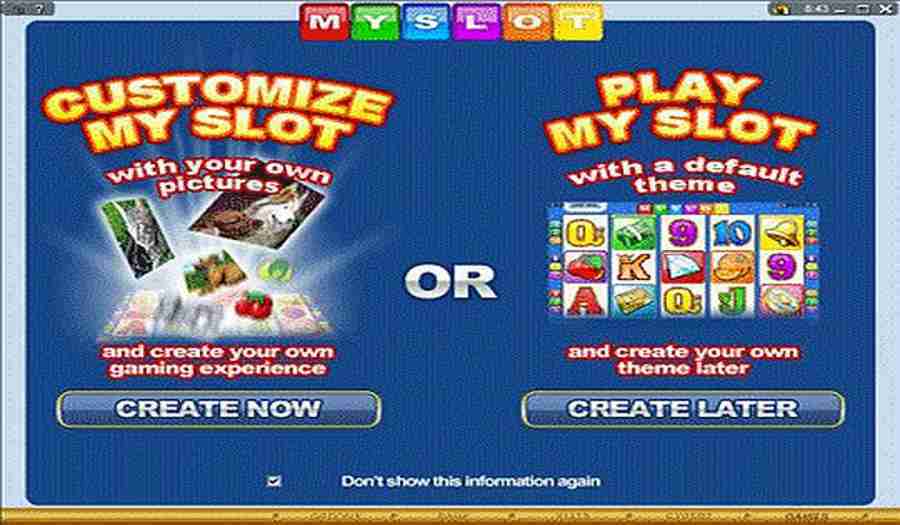 Microgaming launches My Slot ,is a revolutionary new slot type whereby players get the opportunity to design their very own look and feel of the slot! This includes choosing your own symbols, background color and even background sound! Find 3x, 4x, or 5x of your very own scatter and trigger 15 Free Spins, where all wins are tripled and the possibility of re-triggering exists.
My Slot is the most exciting innovation from MGS yet, with My Slot the possibilities are infinite!
Revolutionary, because for the first time online gamblers are empowered to design and build their own theme.
Responding to player demand, this game provides the player with the option of selecting personal choices in photos, graphics and music from his or her computer hard drive and importing them into the game software through an easy to use tab interface, bringing to life a truly bespoke game uniquely and exclusively suited to the creator.
No special skills are necessary to use this revolutionary new feature, giving the player the power to select symbols, background colour and even sound.
The customised theme then becomes part of an action-packed Microgaming video slot that offers Wild, Scatter and Free Spin features with 3x multipliers, and the capability to generate spins within the spins to create more winning opportunities.
For those players who do not wish to use the customising function, a default version of the game can be selected that will display the game to Microgaming's usual top quality standards with a conventional slot theme, razor sharp graphics and the same exciting winning opportunities.
Roger Raatgever, CEO at Microgaming, describes the new customising capability as one of the most exciting and advanced developments introduced to the industry for some time.
"A customisable slot is something that players have repeatedly requested, and the Microgaming development team has responded by designing this unique and player-friendly enhancement of our latest video slot," he said. "MY SLOT really does have a fun new capability that we're sure will put an extra edge of enjoyment on the game, at the same time reinforcing Microgaming's reputation as an industry leader in Internet gaming technology."
MY SLOT is not just a pretty (and changeable) face; this slot has a betting range to suit all pockets from as little as 0.01 to 1.00, with a maximum bet across all 9 lines of 45.00.
Raatgever has the final word: "Try your hand at customising a slot by visiting a Microgaming powered casino and getting personal with MY SLOT!"