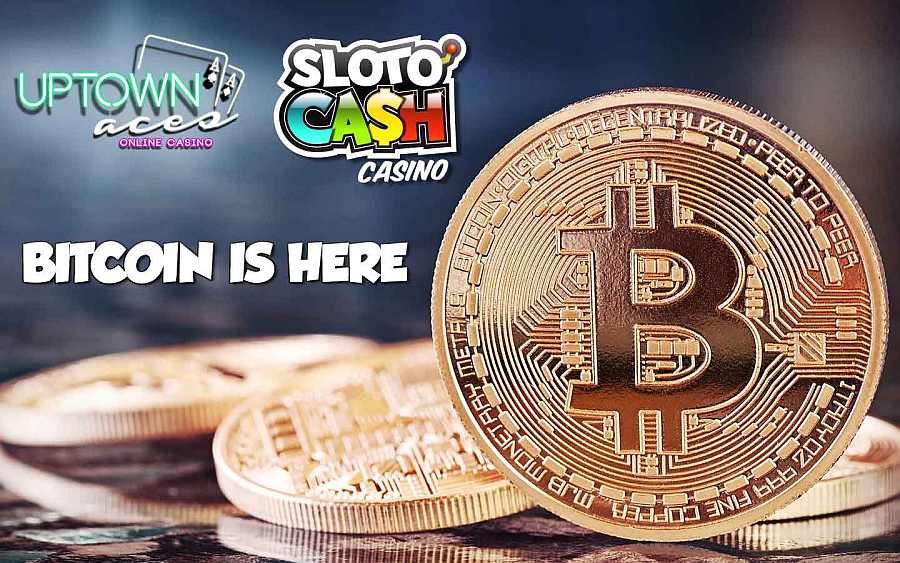 Just when you thought modern technology could not get any better, there came Bitcoin, and online payments will never be the same. Digital currency utilizes peer-to-peer transaction technology, effectively eliminating middlemen and banks. This makes Bitcoin payments faster and more convenient than ordinary cash transactions and this has impacted positively on the popularity. Online gambling is one of the areas where Bitcoin use is most popular although only a small part of the industry makes use of the currency. It is the hope of many Bitcoin lovers that more and more online casinos will accept Bitcoin payments. Recent developments have been a source of joy for some as Deckmedia, the company that owns Slotocash and Uptown Aces, recently announced that in the near future, the two casinos will be accepting Bitcoin payments. This is great news despite the fact that Bitcoin withdrawals are not supported, yet.
Bitcoin Deposits are now easier
Regular Bitcoin users, or anyone who has ever used Bitcoin before, will find the payment process slightly familiar. The process has been smoothly and effectively integrated into both casinos' cashier systems and provides the player(s) with two options. They can either use Bitcoin for payments directly or indirectly by channeling the transaction through Neteller. However, traditional transactions will still be supported where players will manually transfer payments. Deckmedia, to ensure the players get to enjoy the ease and convenience that comes with Bitcoin payments, has made the process simpler. Players will have to first indicate the amount they wish to transfer in USD, which is the most common currency in the world. The minimum amount that can be transferred is $10 with the maximum capped at $2,500 per transaction. With the amount given, the casino's system will automatically convert it into Bitcoins with the total Bitcoin amount appearing on the slip together with the wallet address and QR code for the deposit. This process hardly takes more than 5 minutes which is relatively fast compared to other payment methods. To compensate for any glitches or undue delays, the casinos allow players up to 30 minutes to send in their deposits. Non-compliance with the deadline will result in the transaction being invalidated.
Bitcoin payments are made even easier as players are able to transfer Bitcoins through Neteller. The payment processor converts Bitcoins into ordinary usable currency which is then used to place bets. Later, players can use Neteller to transfer Bitcoins to either of the two casinos if they so wish.
For Bitcoin gamblers, the future looks bright
For many casinos, Bitcoin payments are a great addition as they allow them to cater to players who use the cryptocurrency without facing many risks. With two of the biggest online casinos in Slotocash and Uptown Aces taking the leap of faith and accepting Bitcoin payments, it is expected that more casinos will follow suit. After all, there is nothing to lose and everything to gain as Deckmedia can attest. For Bitcoin payments and deposits, it is very easy to convert them into Fiat currency without any additional costs to the casino. Withdrawals, on the other hand, are a bit tricky since casinos may find themselves paying out more to players due to the volatility of the cryptocurrency. With the main goal of casinos being to minimize losses and consolidate gains, it is quite understandable why they would be reluctant to integrate Bitcoin withdrawals. And the situation is likely to remain until a proper solution is found, and from the look of things, that is not very far off.
The announcement by Deckmedia, Slotocash, and Uptown Aces stand to gain as more Bitcoin players come in to check out the systems. For Bitcoin, this is a big win as it is an indicator of how much the cryptocurrency stands to change the game as more casinos adopt its use. Despite everything, the present looks bleak for Bitcoin supporters as Bitcoin gambling's share of the market totals less than five percent. The future, however, looks promising as analysts predict a significant increase in Bitcoin gambling penetration in the next two years. And this is starting to shape up as more Bitcoin gambling sites set up shop and the more mainstream casinos starting to warm up to the cryptocurrency. Simply put, the Bitcoin train has left the station and there is no stopping it.
Use Bitcoin at these Casinos
Get up to
$7777 bonus
+ 300 free spins
Min $€20 Dep, 30x wagering
New customers only.
Min €/£/20. Deposit, 25x Wagering Requirements
Get up to
$8888 Bonus
+ 350 Free Spins
Min $€20 Dep, 30x wagering
New customers only.
Min €/£/20. Deposit, 30x Wagering Requirements