ClickandBuy Casinos ( Closed! )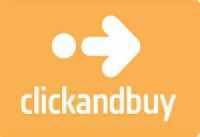 Firstgate Internet AG was first started back in 1999 by Norbert Stangl. The initial staff was quite small, it only had about 3 people. The current incarnation, ClickandBuy was first opened in the year 2000. This service offers everything a customer need for his internet transaction necessities. After this, the company went on to expand in places such as Europe, the US, and of course in Asia.
Back in 2007, another company became a shareholder for ClickandBuy, and its name is Intel Capital. This further accelerated the international expansion of the company.
It also received a couple more large investments back in 2006. 3i, a large investment fund brought them another 20 million euros and later that year T-Online Venture Fund made another sizable contribution. Thanks to this 10% investment from T-Online Venture Fund there are currently able to offer top-of-the-range telecommunications services, so they are quite versatile.
A total of 14 000 online merchants do business with them, so you can rest easy that your payments are secure. The most notable ones are AOL, Skype, Apple, PARSHIP, meetic, EA, MSN, Nero, ARCOR, Codemasters, and Yamaha.
Depositing with ClickandBuy
Al you need to do to conduct business is to select your bank account and/or debit card and use it as a direct payment method for whatever you need to purchase.
This system works with several credit cards, there's no need to worry about that. Just head on over to the payment method section on their website, under-setting, and select a valid and approved payment method. If you wish to add a new credit card just visit the credit cards section, select add and just read and follow the tips that will be displayed.
Information theft is very common on the internet so one could understand why some people are concerned. But they are regulated by the German Federal Office for Information Security, so they follow very strict guidelines and couldn't give out your info even if they wanted to. This basically guarantees the privacy and safety of information.
If you input a payment method, you grant them your approval for them to take funds from your account and conduct transactions. This method is simple and more direct so you won't have to go through all the red tape required for regular online business transactions.
Also, you may easily switch between your registered debit cards and credit cards. You only have to input your account info and specify your secondary payment method after establishing your ClickandBuy account. It is also possible to select your favorite one between these two.
ClickandBuy Pros / Cons
There is a lot of advantages to using this service. First is the wide range of merchants willing to work with them, the payment process is easy and intuitive and all of this can happen at any hour because their schedule is non-stop.
The cons are that some people sometimes complain about their service. Although these complaints are online and there is no real way to verify them, it should be noted that they exist. They also can't transact with the casino account of players from the US.