OKPAY Deposit Casinos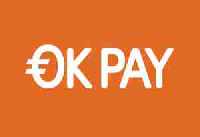 OKPAY is an e-wallet, and it is one of the few e-wallet options offered to the United States online players and gamblers. It offers a completely online-based system to make payments for a wide variety of products and services. It is offered in over 200 countries, so it is one of the largest payment systems available. OKPAY supports all major currencies and allows users to have more than one wallet if they would like. As long as the user has a way to fund the e-wallet (through a variety of deposit methods), and lives in one of OKPAY's supported countries, then they can use this service. It is not limited to a specific geographical area.
OKPAY also offers prepaid MasterCard so that users can take their e-wallet with them and use it anywhere that MasterCard is accepted. Users even have the ability to link their OKPAY Card to an account so everything is in one online location, making tracking purchases extremely easy. OKPAY also offers general online banking services and money transfer services to over 70,000 locations.
OKPAY has been in operation since 2007 and is focused on electronic commerce from its inception. It also deals with financial software, and product marketing, and sales over the internet. OKPAY actually has current reserves to back up their entire system, so there is never any "fake money" moving through OKPAY.
Depositing with OKPAY
Users must first fund their e-wallet to use it. Users can sign up for an account at OKPAY's website. OKPAY allows a variety of deposit methods including bank transfer, deposits using electronic currencies, phone payments, and other money transfer systems. If the user would like to deposit using a bank account, then there may be a verification process involved in setting up the OKPAY account. Each e-wallet also has its own banking details so that it can be used for general wire transfers even where certain merchants do not specifically accept OKPAY payments. Because OKPAY serves a variety of countries worldwide, it allows transactions in most currencies. Users can even separate wallets so they have a different set of funds for each potential use.
Once the account is funded, the user should visit the cashier page at their desired online casino. Look for OKPAY as a payment option. Enter the amount to be deposited and enter the OKPAY account information to show where the payment should originate. The funds are then transferred from OKPAY to the online casino instantly. Most online casinos will either offer or require the OKPAY account to be directly connected to the online casino.
Transactions do require a transaction fee, but it is relatively low—only 0.5% of each transaction. This fee cannot be over $2.99 for each transaction. OKPAY transfers are non-refundable.
Advantages of OKPAY
OKPAY is widely accepted and the individuals who use OKPAY are not limited to a certain geographical area. OKPAY can be funded in a variety of methods, and transfers occur instantly. In addition, users can pay and track their payments in virtually any currency that they would like. Although there are transaction fees, they are very low. OKPAY also allows users to withdraw from the e-wallet to their bank. It also has an advanced secured system that ensures that every transaction is protected. OKPAY is backed by a real currency that OKPAY keeps on hand at all times.
It is also a great way for users to track their spending. Having multiple wallets and being able to have wallets that are not connected to a bank account will likely help online gamers and gamblers keep their gaming or gambling funds separate from their regular bank account. OKPAY also offers a prepaid card that can be used anywhere that MasterCard is accepted and offers many of the same tools that would be available to traditional online banking.
Disadvantages of OKPAY
There really are not many disadvantages to OKPAY. Payments are not refundable, so that may be seen as a disadvantage to some users. Users do not have the ability to use cash to make deposits to their OKPAY accounts unless they use a money transfer option.
Click to visit OKpay official website