Switch Deposit Casinos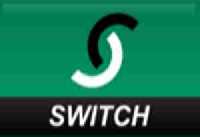 Launched in 1988 by The Royal Bank of Scotland, switch is a popular debit card used mainly in the UK which later merged with Maestro in 2002 to become part of the network of MasterCard. This made Switch the sister brand of the Solo Debit Card, also a popular online deposit method with gamblers in the UK. It is basically an electronic online debit card and the way it works is that all transactions made using Switch are debited from a user's bank account within two days.
The Switch/Maestro card is a very versatile mode of payment as it is accepted by over 400,000 merchants spread over 60 countries. Online casinos that use the Switch card offers players a reliable, fast, and very payment system. In addition, this payment solution also offers a level of convenience that is lacking with many other options provided by payment systems. All Switch debit cards are embedded with Maestro capability so as to allow players who use them to make payments outside of the UK.
The system requires that a player must be holding an active bank account in order to fund the Switch Debit card. When making deposits online casinos using the Switch debit card, the way the transaction is handled a little different than with other debit card deposits since this system is fully online-based. It's also an exceptional option for players who may not feel comfortable when they have to use their credit card accounts in order to fund their wagering action online.
We have enlisted all Switch online casinos here that will take this deposit method, there are over 18 Switch casinos to choose from.
Depositing with Switch?
Because Switch debit cards are accepted by most online casinos, players can fund their casino account and immediately start playing using real money. All a player needs to do is to download the casino software and register an account with the casino of their choice. Once a player has registered, the next step is, head to the cashier section on the casino's landing page then choose the "credit cards" option. After that, it's a simple matter of registering the card, specifying the deposit amount, and finally, confirming the transaction. Additionally, players are allowed to withdraw their winnings into the same Switch card. The update to a player's account balance takes no more than two minutes, and the run-down of making a deposit is as follows;
1. A user first is to log in to the player account
2. The system directs the player to head to the "Cashier" tab, then click on the "Deposit" option
3. The player enters the amount to deposit, plus a bonus code if one has been given
4. After filling out the required details on the form, a player clicks the "Submit" button
5. Once the data has been submitted. The system indicates if the transaction was successful via a message reading "Successful Debit Card Purchase", in addition to a unique transaction ID
6. Should the transaction be unsuccessful, the system sends an error message detailing reasons why it failed
Advantages Of Using Switch
One convenience for making deposits with the Switch card is that it is a prepaid card with no credit function. Unlike the debit version, Switch is not linked to a bank account in order to offer an overdraft facility so a player doesn't have to rack up debts while gambling as it's only possible to spend the funds that a player has loaded onto it. The major advantages to using the Switch debit card are;
Players can make instant deposits; transactions at online casinos are quite fast
There are withdrawal options available
Players are able to check their Switch transactions statements online
Online casino players are allowed 24-hour access to their accounts
It offers increased security via employing pin protection, plus an almost complete elimination of online fraud
It is widely accepted at many online casinos
The switch offers players instant access to funding their casino gaming at ATMs as well as businesses all over the world.
As a general rule, deposit limits for debit or credit cards at online casinos are pegged at $20. However, though the maximum deposit will depend on a player's VIP level, bank limits plus the country of residence, and, with Switch, a player can deposit amounts upwards of $2000 per transaction.
Disadvantages Of Using Switch
The main disadvantage of using Switch is that the system requires a player to be holding an active bank account in order to fund it. As such, potential players who lack a bank account are locked out from enjoying using the card when playing at online casinos. And although Switch is used to make deposits at online casinos, it is strictly for debit transactions only meaning any funds player deposits into a casino must already be available in his/her bank account.