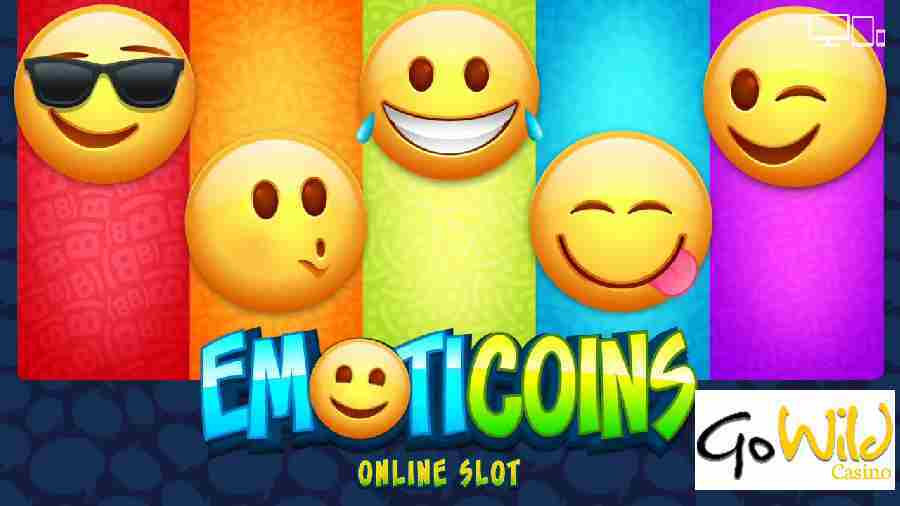 Online gambling and casino sites worldwide have been raging with excitement as Microgaming announces the launch of its latest game machine called the EmotiCoins Slot along with an enormous and promising big jackpot prize. Are you ever familiar with Emojis? That's right; the EmotiCoins Slot machine is a rendition from Microgaming to the world wide phenomenon of emojis and emoticons that have been widely popularized by social media platform.
EmotiCoins Slot is Microgaming's brilliant idea of a slot machine with a twist of a new kind of entertainment that is surely a must-play incoming gambling phenomena. And, GoWild Casino is more than happy to let you know that they are in on it for a big pot of a shining €10000 prize pool offered to everyone interested of joining in on the fun. The generous pot is not only appealing but it's more than enough for everyone out there; so don't ever miss out!
What are the Odds of Playing EmotiCoins?
Emoticoins slot is designed with five spinning reels and thirty pay-lines of cute characters and emojis on each stop which will keep you busy for quite some time. Wild characters are also present so you can expect a lot of surprises that will take you for a blast as you spin your way into that shining pot of gold, as they say. With each stop becoming as entertaining and enthralling as all slots are, your luck will surely be put to test with Emoticoins slot.
How to Get a Chance on that Coveted €10000 Prize Pool
GoWild Casino is one of the top tiers in big cash promos for the incoming EmotiCoins Slot draw. If you are as excited as they are, you should be happy to know how easy it is to join on the promo. Here's what you only need to do:
Go to GoWild Casino online website
Log in to your personal account with GoWild
Place your bets and make your wagers
And then lastly, wait for the exciting draw
In order to qualify for a chance to win that big prize, you will have to wager at least €10 (as minimum) for the slot. But you have to hurry up though, because bets are only allowed to be placed from 14th to 22nd of August and there's not much time left for you if they don't decide to extend the deadline of the draw.
Although there is a big pot reserved for this entire promo, the allowable share for a single grab is only up to €1000 but that is already plenty to make from your €10 wager, right? So what more are you waiting there for? Go to GoWild now and spin some reels for a big cash prize!
Best Luck to Everyone!
Microgaming is a great company that utilizes popularity and demand while incorporating entertainment and opportunities. GoWild, on the other hand, has what it takes to turn one simple slot into both an attraction and entertainment with a match of fortune. What about you? Well, you've got what it takes to place a bet, play, and win the draw!
What do think? If you're interested in trying your luck with the EmotiCoins slot, hurry up—visit GoWild Casino now and get ready for a splash of spins with a bunch of cute popular emoji characters. Best of luck to you and have fun!
About GoWild Casino
GoWild Casino is a Microgaming casino ( and recently added more software providers to it ) operating online.  The online … Continue reading
Get up to
100% bonus
up to $333 or 3333 SEK/NOK
Min $€10 Dep, 30x wagering
New customers only.
Min €/£/20. Deposit, 30x Wagering Requirements