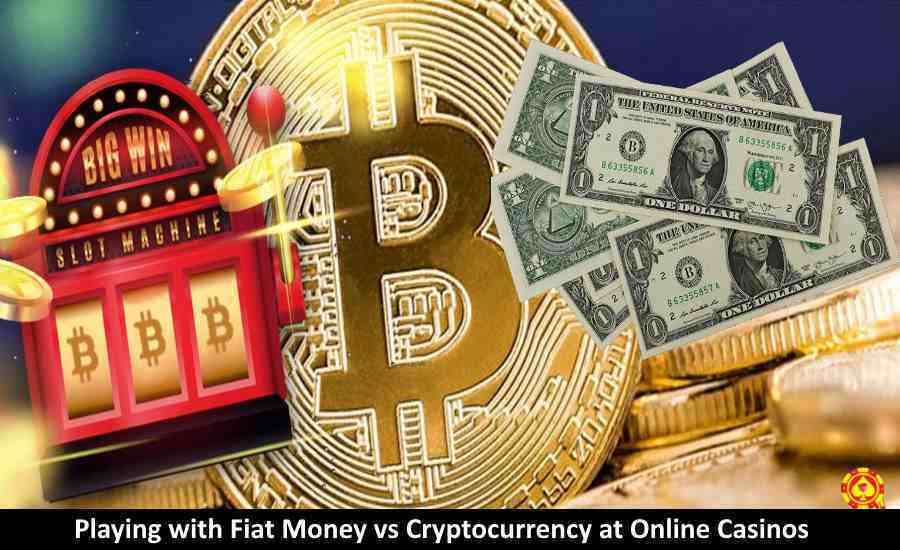 Cryptocurrency and fiat money are two different things. Fiat money is the actual currency that people use in their daily transactions. It ranges from coins to banknotes and even credit cards. In fact, each country has its own currency, and it is subject to regulation by the government. Popular Fiat currencies include the US Dollar, British Pound, Canadian Dollar, and Australian Dollar, just to mention a few. On the other hand, Crypto is a virtual currency that you can use to pay for goods and services on the internet.  For example, you can trade using Bitcoin, Litecoin, Bitcoin Cash, and Ethereum.
As the world of cryptocurrency continues to grow, online casinos are starting to accept cryptocurrency as a deposit and withdrawal option. This is an exciting time for gambling since blockchain technology presents new payment options.  In this article, we analyze why crypto-betting might be better than fiat-betting.
How to Get Digital Coins
Before you start gambling with digital tokens, you need to have a crypto wallet with some digital currencies. You can get crypto by mining or exchanging fiat for virtual coins.
Exchanging Fiat with Crypto
You can use fiat-to-crypto online exchanges to trade your local currency for digital assets. So, if you have an account with any exchange, you can transfer cash from your debit/credit card and convert it to your preferred currency. Note that fees vary from one platform to another.
Mining
During mining, some digital coins use the "proof of work" validation method, while others use the "proof of stake" protocol. Mining assets like Bitcoin, Monero, and Litecoin requires proof of work, and you'll need specialized equipment to process the transactions. However, if you decide to mine using this protocol, you'll compete against other miners to verify transactions. Unfortunately, only the first person to complete the verification process receives a reward. On the other hand, proof of stake network members verify transactions and receive rewards based on their cryptocurrency stake. Besides, the protocol is energy efficient and you don't need powerful servers to mine the tokens.
Why Choose Crypto for Online Gambling
Transaction Speed
One of the limitations of playing using fiat is slow transaction speeds, especially during withdrawal. For instance, methods such as debit/credit cards and wire transfers may take up to 5 business days to clear payments. However, virtual currencies offer instant withdrawals, transfers, and deposits. So, if you play on a Bitcoin casino, you can cash out your winnings within minutes or a few hours.
Low Transaction Costs
Playing with fiat currencies tend to be costly since the traditional banking system imposes processing fee and transaction charges. In addition, you might also incur conversion fees if a casino doesn't accept your local currency, thus reducing your payouts. In contrast, virtual currencies are decentralized and there is no middleman to charge you a service fee. As a result, many casinos offer free crypto withdrawals which give you total value from your cashouts.
Ease-Of-Use
While dealing with fiat, you go through a lengthy process while making transactions. For instance, you might need to transfer your cash to an e-wallet before depositing it in a fiat casino. Besides, some sites might require players to upload bank statements to show the source of funds. Similarly, some banks might extend waiting time during withdrawals if the funds come from a blacklisted casino. On the contrary, if you are a crypto player, no one will question the source of funds even if you withdraw from a foreign casino. In addition, cryptocurrencies are globally acceptable and you don't need to convert them to other coins to use them.
Anonymity and Security
Fiat currency is government-controlled, which means security agencies can track your spending and profile you as a gambling addict. In some countries, such information might affect your chances of securing a position in some government offices, thus ruining your career. In contrast, cryptocurrencies guarantee anonymity since blockchain doesn't share personal information. Therefore, people will find it difficult to trace your transactions and gambling activities. Besides, your digital coins are safe and secure because blockchain records all transactions in an encrypted digital ledger.
Multiple Payment Options
The web presents you with thousands of blockchain-based digital currencies.  Although most casinos only support the most popular ones, some sites provide over a dozen crypto payment options. Examples of common coins include Dogecoin, Bitcoin, Monero, Ethereum, Litecoin, Cardano, and Bitcoin Cash.
Bottom Line
Digital currencies are different from conventional fiat money since the former is decentralized and unregulated. The points above clearly show that cryptocurrencies have an edge over fiat in online gambling. Therefore, Crypto coins are perfect for betting since they eliminate most challenges associated with conventional currencies. So, if you are a crypto player, you'll enjoy anonymous transactions, low costs, instant payments, and top-notch security. To sum up, crypto tokens are the future of gaming since most casinos might replace fiat money with cryptocurrencies.
Cryptocurrency Regulation And Everything You Need to Know ( Right Now)