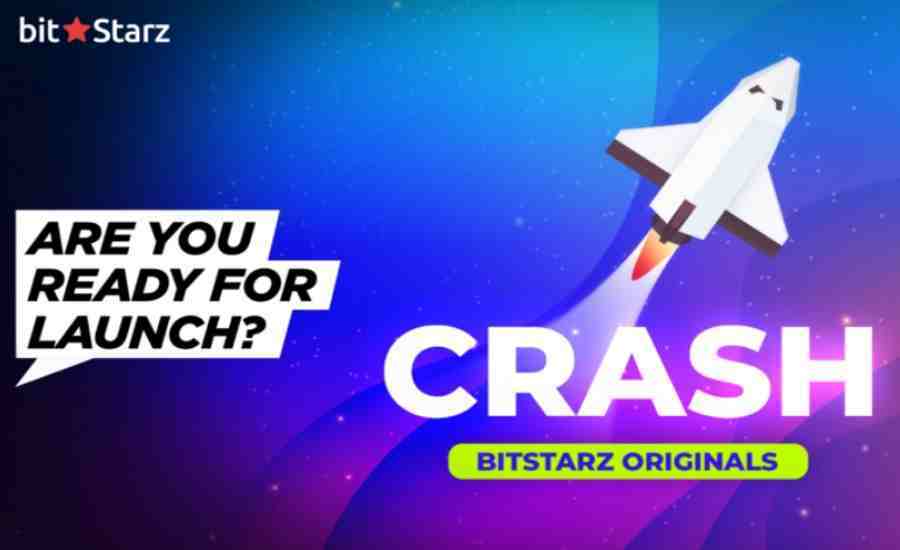 BitStarz is one of the largest online crypto-based entertainment networks on the planet. It offers over 4,000 casino games, including live dealer titles, BTC games, jackpots, Megaways, tables, BuyBonus, and classic slots. Unlike most gaming sites, BitStarz holds a Curacao license which allows it to provide services in several countries. Besides, the online platform supports multi-device compatibility, attracting millions of players with desktop and mobile devices.
Apart from standard casino games, the platform provides its titles known as BitStarz Originals. BitStarz Originals are inspired by classic casino titles like Dice and Plinko. The titles are designed to keep players entertained for hours since they are thrilling and have fast-paced gameplay. Although the games are simple to play and lack fancy graphics, they might be challenging to beat if you're not careful. Currently, Bitstarz has a new variant of BitStarz Originals known as Crash. This article explores the new Crash game and highlights how you can play the title and win generous prizes.
About Crash
The new crash game is a lightning-fast game developed by Bitstarz, and it is perfect for a quick session since it has fast gameplay. The gameplay entails avoiding the explosion of a rocket. Therefore, your objective is to collect your winnings while the space shuttle is still intact. For that reason, the game is one of the most challenging titles available in the market. However, you can bet on your chances to win big with this exciting new game due to its amazing 100,000x max multiplier. In addition, it is compatible with all devices, including Android, iOS, and desktops, since it runs directly in browsers without any downloads.
Crash Community
Bitstarz casino is a great place to meet like-minded people from all over the planet. As the Crash game's popularity grows, so does the community. The site has an active social media presence with a very engaging community. Further, the users have a strong sense of community spirit which fosters player interaction. For that reason, their members are always up for a chat and willing to help you out if you need assistance.
Furthermore, the casino has a very active forum where people can talk about everything from new games to technical issues. Therefore, it's a great place to find out all about the latest features and trending games. In addition, you can share any problems or issues that you might be having while playing a specific title.
Apart from player interaction, the casino displays a list of the latest Crash game winners under the "Winners" section. You'll see partial handles of winners, the amount won, and the game that rewarded them with the prize. Besides, the forum allows punters to discuss how they've won big on the site. Therefore, you won't feel that you are playing alone. Besides, the testimonials from winners might encourage you to keep wagering because the more you wager the higher your chances of winning.
In addition, the community provides users with a wealth of information on every game they play.  For instance, it covers the latest trends and hot topics about popular games. Besides, players share ideas and learn new ways to beat the Crush game. Player interaction is also helpful to developers since it helps them identify bugs and improve the game.
Crash Gameplay
Featuring an innovative new way to play, players win real cash prizes by cashing out before a rocket explodes. It's easy to play and fun to watch as your wager grows while the rocket ascends to the sky.
To play, simply select your stake and run the game. If you stop the rocket before it explodes, then the game multiplies your wagering amount with the multiplier. However, you lose the bet if it explodes before you cash out.
Game Features
Unfortunately, the title doesn't come with any special features. Therefore, there are no in-game functionalities that you might use to maximize your payout or trigger free game plays. The main feature of this game is that it offers an insane 100,000x max multiplier on your winnings. Therefore, a €1 stake can generate a max payout of €100,000. However, the rocket needs to reach the 100,000x destination without exploding to win the ultimate prize. In addition to this, you can play as many rounds as you want. Therefore, you might not get stuck in a losing streak for too long.
Apart from the multiplier, the game has some hotkeys that might improve your gaming experience. Since the game is fast-paced, it is easier to control it by pressing a button than by using a mouse. Crash hotkeys include:
A – The key reduces your wagering amount by half.
D – When you press "D," you set the bet amount to zero.
S – Simply press "S" to double your stake.
Space bar – Simply hit the space bar to place a wager, cash out, or cancel the bet.
Final thoughts
BitStarz Originals provide users with a new way to experience casino games as they mainly focus on providing entertainment. You can try playing Crash during your free time since it loads faster on both desktops and smartphones. Besides, the game is simple to play and can multiply your stake up to 100,000 times.
Get Up to
$2,000 bonus
or 5 BTC
Min $€20 Dep, 30x wagering
New customers only.
Register with BitStarz today Up To 5BTC + 180 Spins