Red Tiger Gaming Casinos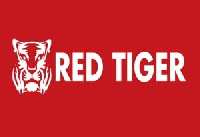 Established in 2014, Red Tiger Gaming, popularly known as RTG, is easily one of the most recognizable names in the online gaming industry. Over the several years they have been around, Red Tiger Gaming has managed to create an awesome portfolio of games and has partnered with some of the best online casinos, which has positively impacted their brand. Arguably, another factor that might have contributed to the company's success is the location.
RTG is located in The Isle of Man (aka gambling heaven) where the online gambling regulations are not that strict and it is easier to get things done when the law is not always on your neck. Of course, you can't dispute that the (mostly) high quality of their games is a key contributor to Red Tiger's success as a brand.
The Games
Compared to other big names, RTG does have a relatively smaller game collection. The number of slots currently stands at about 30, a large percentage being video slots. To their defense, they are newcomers to the game (no pun intended) and are probably still trying to find their footing. That said, the company has some great games in its collection including Epic Journey, Gold Star, Wild Spartans, and Ocean Fortune. These games cover a wide range of themes including, but not limited to, Ancient Egyptian culture, Underwater/Aquatic, Chinese, and even popular culture.
The common feature of RTG games is the innovative graphics and sleek gameplay not to mention the ultra-high definition quality. As a matter of fact, there are some 3D slots available and game updates are made regularly. All this shows that the company is committed to not only getting to the top but maintaining its stay there. We can only hope that they don't fall off with time.
The Relationships
As with any business, success or failure in online gaming is determined by the type of casinos a developer does business with. If the casinos are not big enough or have bad reputations, the games won't have the required exposure, which will affect the developer's revenues. Red Tiger Gaming, to their credit, has partnered with some great casinos in the UK, which goes a long way in marketing and showcasing their products to the larger Europe and the world. Examples of RTG casinos are Betsson, Paddy Power, and Betsafe, which are quite big in the UK.
Partnering with established casinos like the above also enables the company to get credible feedback from the various casino owners (who are experts on their own) and from the players themselves. This, in essence, gives a clear picture of customer needs, which goes a long way in helping the company to maintain the quality of its products.
Casino Bonuses
Bonuses are by far the most popular features in every slot and/or casino and are a major selling point for any slot. No matter how good a particular game is, players won't be much interested if the bonuses are low and vice versa. Red Tiger Gaming, in partnership with their hosting casinos, offers several bonus types targeting various types of players. First, there are match bonuses, which are basically awarded when players sign up for a casino. Then there are the no-deposit bonuses, which are quite popular, probably because they are not tied to many conditions. Free Spins and slot-specific bonuses are the other types of bonus features you will come across while playing at the various Red Tiger Gaming casinos.
Download/Instant Play
Basically, RTG games are playable on all three major platforms, namely computer, mobile/tablet, and Television (yeah!). Also, you can choose to play the download versions or take the easy, and faster way out by selecting the Instant Play option. Note that playing in Instant Play mode requires a very strong and reliable Internet connection, otherwise gameplay quality will be affected. Nonetheless, different casinos have different options and it is always good to check beforehand.
Auditing/Licenses
Red Tiger Gaming, as a casino software developer, is licensed by the UK Gambling Commission and the Isle of Man Gambling Supervision Commission. In addition, they have approval seals from several online gaming auditing firms including eCOGRA and TST, which also carry out regular audits and testing of the company's games to certify their security and fairness.
Click to visit Red Tiger Gaming Website