Thunderkick Games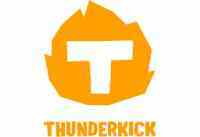 Thunderkick is a Stockholm, Sweden-based casino game supplier that develops slot games and a Remote Gaming Server (RGS). They have a lot of things going on for them like – years of experience which has established their mettle in the gaming circuit. Furthermore, their players are able to trust them because they are equipped with in-house capabilities. That is, they develop their games and platform ingeniously which allows them to control the legitimacy of their casino games.
Introduction
Thunderkick slots articulate that their sole mission is to create games that enhance the overall player experience of online casinos. Keeping this in-kind they were born in 2012, and now they are independent casino game suppliers with offices in Stockholm and Malta.
What is so special about Thunderkick software that helped them become so big in this field? Well, they owe this huge success to their work culture which is a perfect blend of innovation, experience, and knowledge. On top of that, they back these credentials with their remarkable, unique, and high-end games.
Apart from this, their presence is known across various online casino and gambling sites globally – Unibet Cherry casino and many more. For them, this is just the beginning as they have many more ladders to mount and a long way to go.
Thunderkick Mobile Slots
Thunderkick caters to all types of gamblers – whether they are desktop users or mobile users. The players can access their favorite thunderkick slot games on any mobile device – iPhone or iOS tablet, Windows Phone or Android. The slot machines are designed in such a way so as to work perfectly on every mobile device without hindrance. All thanks to the HTML5 slots technology which ensures that the games fit to mobile parameters without losing the gaming experience.
Esqueleto Explosive and Magicious are touted to be the most popular mobile slots by Thunderkick and are absolutely worth trying.
Thunderkick Slots Features
There's no doubt that Thunderkick is one of the best online gambling and casino games providers. And the best part about Thunderkick is that their games have a demo mode, allowing the players to have a quick look before investing in the full version. All you have to do is to try their many amazing games like Flux, Arcader, Sunny Scoops, etc to discern the quality of their slots.
Oh, and where do one start with their top-notch features? They have a user-friendly interface and extremely high quality and innovative games, not to say, an unrivaled customer service. Apart from that, they boast of jaw-dropping animation, vivid colors, and pretty robust transactions.
And there's another twist here: they offer a little something extra by building customized themes for their casino games. With themes like -fruit, candy, magic, space, adventure-themed slot games, and more, Thunderkick online slots are like a page out of your favorite fantasy book.
Earlier, their slot machines could not boast of such multiple features. They used to have somewhere around 3 reels or 5 reels with probably 10 symbols on each, and if a certain combination lined up, then only you got to win candy. Yes, when slots were made illegal for some time they made do with "candy" instead of real cash. However, now their slots have progressed a lot – they have all kinds of extras like bonus games, free spin features, and the opportunity to gamble with real money and progressive jackpots.
Licensing And Regulations
A heavy vigilance and various licensing and regulations go behind acquiring the player's trust. Thus, they ensure that their licensing and certifications are always up-to-date. They are licensed by the acclaimed UK Gambling Commission and hold the Malta Gaming Authority B2B license. Apart from that, they are certified in multiple jurisdictions making their games extremely safe and secure. Such measures also increase the player's trust by manifold resulting in massive traffic on their games.
Top Picks from the Thunderkick Range
With the hottest and the most exclusive range of casino games in town, Thunderkick is emerging as a new favorite among the players. Although all of their games are equipped with top-notch quality, a few of them still stands out the most.
Here are some of Thunderkick's most popular slot games.
1. Bird on a Wire – With exploding birds as the theme, this game has electricity wires in place of the 'reels'. The birds fly and land on these wires. Wonderful effects, together with quirky-looking birds bring this game to life.
2. Esqueleto Explosivo – Another wonderful slot game by Thunderkick which is inundated with fabulous 3D effects and combustive explosions.
3. Sunny Scoops – This game is touted to be a hit! Sunny Scoop's theme is totally based on Ice-cream, with the symbols being different flavors on top of the cone. Excellent sound effects and graphics make the game much more interesting to the players.
Thunderkick has a real passion for games. This reflects in the mechanism, graphics, and audio work of their casino and gambling games. Rather than focusing on supplying a huge amount of games, Thunderkick focuses more on quality which makes them a winner. What are you waiting for? If you don't believe the word of mouth, try out their games for yourself.